>By The Common Man
The National League has 16 teams to the AL's 14, so rather than waiting for Bill to post the next installment of 3 Questions, TCM's going to jump ahead of him here to look at the LA Dodgers (as always, click here to see other entries in the 3 Questions series). Of course, the danger of rolling these out over several weeks is that your initial questions may get answered, such as whether the divorce between Frank and Jamie McCourt will hamper the Dodgers' ability to spend. Indeed, Frank has opened up his wallet this winter to re-sign Hiroki Koruda, and pick up free agents Juan Uribe and Jon Garland, amongst others. So here are the new and improved questions while we wait to see what the long term ramifications will be of the Dodger Divorce.
Question 1: Is Frank spending his money wisely?Yes and no. The Koruda signing was elegant in how quickly it came together, how short it was (1 year) and how the Dodgers even managed to pay a very good pitcher less than he made in 2010. The Garland deal (1 year, $5 million plus incentives) has an opportunity to be one of the best bargains of the winter. And the Ted Lilly extension ($33 million for 3 years) figures to be completely appropriate. On the other end of the spectrum, the buy-low deals on Tony Gwynn Jr, Vincente Padilla, Oscar Villareal, and Jay Gibbons minimize the team's long-term risk, and represent a relative pittance to a team that should be one of the most profitable in the Majors. The value they get for these refugees of the Isle of Misfit Ballplayers should be high.
On the other hand, the signing of Juan Uribe to a three-year, $21 million deal is troubling because it is unlikely Uribe will be able to repeat his production and be worth the money. But it does give the Dodgers some flexibility as they figure out how to cover the infield in 2012, and some insurance in case Rafael Furcal goes down with injuries again in 2011. The decision to part with Russell Martin over a relative pittance, however, signals that the Dodgers are definitely working within a budget that is exceedingly strained. And they will be exceedingly disappointed by the performance they get from Rod Barajas and his .284 career OBP.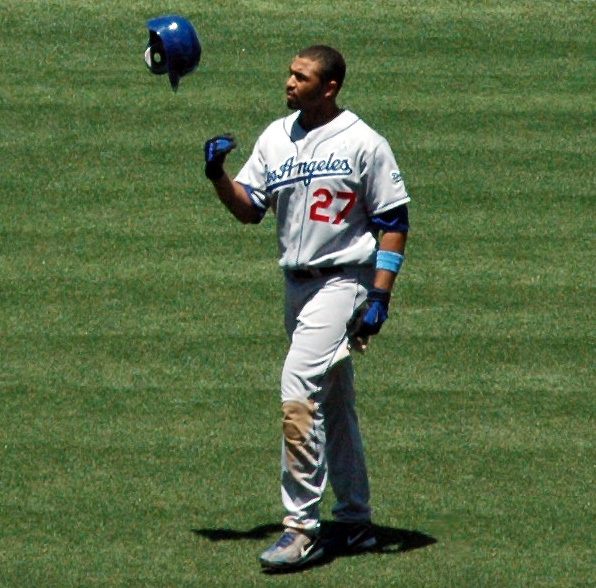 Question 2: Can this club turn around the underperforming Matt Kemp?More than any other player, the Dodgers' hopes in 2011 hinge on the performance of inconsistent superstar Matt Kemp. The rather public discontent of GM Ned Coletti with his young CF hints of the trouble in Dodgerland. Indeed, Kemp is a wonderful player, and a GM would be wise not to publicly drive down a player's value like that. The more important question, however, is whether these Dodgers are equipped to help Kemp rebound from a disappointing 2010 that saw huge declines in his hitting (seemingly due to an inability to make contact), baserunning (his stolen base percentage dropped from 81% to 56% in fewer attempts), and defense (where UZR, Total Zone, and Defensive Runs Saved all say he went from being a plus CF to a huge liability). Davey Lopes' return to Dodger blue is an important first step to solving the running issues, but the Dodgers will bring back Jeff Pentland as the Hitting Coach and Don Mattingly moves from bench coach to Manager. It's the same cast that continually allowed or encouraged Kemp to swing away at pitches out of the strike zone, and to take those within the strike zone (h/t to Fangraphs). Somebody needs to work with Kemp on his pitch recognition, and it's not clear this group is equipped to do that.
Question 3: What hilarity will ensue with a full season of Don Mattingly at the helm?
Aside from his terrific obsession with ridiculous facial hair, that is.
It seems that wherever Don Mattingly goes as a manager, strange, wonderful and embarrassing gaffes follow. While subbing for Joe Torre in Spring Training, Mattingly had the Dodgers bat out of order in the first inning, resulting in Andre Ethier coming to the plate twice in the span of three batters. In July, Mattingly accidentally visited the pitching mound twice in the same trip out of the dugout, meaning he had to remove closer Jonathan Broxton without having another pitcher ready in the bullpen. Mattingly brought in George Sherrill, who gave up an RBI double that cost the Dodgers the game. And this October, in the Arizona Fall League, Mattingly ran out of pitchers before a regulation game was finished, resulting in a loss.
Are these likely to repeat themselves in LA? Probably not. Mattingly will have former managers Trey Hillman, and Lopes on the staff, a veteran pitching coach in Rick Honeycutt, and a good minor league manager in Tim Wallach. He'll also have learned from his rookie mistakes. Donnie Ballgame was respected for his professionalism and his headiness as a player, so he'll likely bring those same qualities to the manager's position. But it remains to be seen, overall, what kind of manager he'll be and where he'll differentiate himself from longtime mentor Joe Torre.