>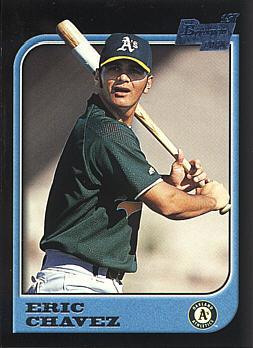 Born on the 32nd anniversary of the attack on Pearl Harbor and on Johnny Bench's 30th birthday (also Noam Chomsky's 49th, Tom Waits' 28th and Larry Bird's 21st), Chavez turns 33 today.
Selected tenth overall in the 1996 draft by the A's — Chavez easily became the greatest player of a pretty disappointing first round, taken behind future teammates Mark Kotsay and Billy Koch — Chavez looked like a star from day one. His first year's numbers as a pro look pretty underwhelming, but you have to keep in mind that he was playing a full season in high-A ball straight out of high school. He was the youngest position player on that team, and he led the team in homers and slugging percentage.
Then came 1998, in which Chavez transformed from a promising young player to an ubermonsterprospect. He hit .327/.388/.603 between double- and triple-A, then debuted in the majors on September 8, still just twenty years old, and even did well there, hitting .311/.354/.444 in his sixteen-game cup of coffee. He entered 1999 as Baseball America's #3 prospect, behind J.D. Drew and Rick Ankiel of the Cardinals. And, of course, he entered 1999 as the A's starting third baseman.

And 1999 was a struggle. He hit just .229/.327/.397 in the first half, though the Athletics, to their credit, stuck with him, getting him into 71 of the team's 87 pre-break games. He then came back from the break and had hit .324/.395/.588 with six homers in 31 games, but then on August 20, he landed awkwardly when trying to avoid a tag and injured his foot, missing about three weeks. He ended the year hitting .244/.333/.427 with thirteen homers in 115 games.
That was pretty much it for the struggles, though. He had a big year in 2000, and the A's liked him so much that during the season, they signed him to a contract guaranteed him $11.75 million for 2001 through 2004 with a $6 million option for 2005. And he performed brilliantly through the life of that contract. In the six seasons from 2000 through 2005, Chavez played at least 150 games every year but once and hit .278/.352/.504 while averaging 90 runs, 33 doubles, 30 homers and 98 RBI a season. He won four straight Gold Gloves from 2002-05. He even seemed to iron out the one arguable weakness in his game in 2004; it was his one not-totally-healthy year in that stretch — he got into just 125 games — but he nonetheless led the league in walks with 95, nearly a 50% improvement on his previous career best. He put up nearly 30 WAR in those six seasons, fifth best in the American League during that span (he was third if you just take 2001-2005, behind only A-Rod and Ichiro).
During that time, as everyone likely remembers, the A's were taking a lot of heat for failing to keep their star players. Former Jason Giambi left for New York after the 2001 season; former MVP Miguel Tejada took off for Baltimore after 2003, and it was becoming clear that they wouldn't be able to keep all three of their excellent pitchers, Tim Hudson, Mark Mulder and Barry Zito.
And so, likely feeling the need to send a message to frustrated fans (sound familiar?), the A's made a big move to keep their youngest star in town long-term. In 2004, Chavez was still just 26, three years younger than Tejada and six younger than Giambi, and the A's locked him down through age 32. The new deal swapped the A's $6 million 2005 option for $8 million guaranteed, then paid him $9 million each in '06 and '07, $11 each in '08 and '09, and $12 in '10, with a $12.5 team option in '11. It wasn't all that much money, even then; smaller than the Tejada contract and much smaller than the Giambi contract, and you had to figure Chavez, as the youngest player, was likely to be the most productive going forward. The New York Times' Jack Curry informed us that the A's had finally got it right by not letting one of their stars get away.
Well. Everybody knows what happened, more or less. In the five new seasons covered by the contract, 2006-2010 — remember, the A's already had a cheaper team option on the 2005 season when they signed the extension back in March of '04 — Chavez came to the plate just 1,204 times. His games played went 137, 90, 23, 8, 33 (but that last mostly as a DH). And when he was healthy enough to play, he was largely ineffective: he hit just .237/.319/.416 during that stretch. He put up a total of 4.3 WAR from '06 to '10, fewer than all but one of his single-season totals from the preceding six seasons. At $54 million ($52 for those years, plus the extra $2 million they tacked on for '05), that's about twelve and a half million per win.
It'd be nice, by the way, to paint this as a cautionary tale for the Rockies signing Troy Tulowitzki so many years before they had to, but it doesn't really work that way. Chavez's last big year was in 2005 — also the final, option year in his initial contract — and he'd shown very few warning signs of being in any way injury-prone. Had the A's waited to sign him during or after that season instead, it probably would have cost them even more; the most it could've saved them (if they were to keep Chavez) was the $2 million extra they paid him. I'd argue that the extension was short-sighted and unnecessary when signed, but that wasn't why it failed so completely. It was just really, really awful luck.
So one has to assume that declining Chavez's 2011 option was one of the easiest decisions a baseball team has ever had to make. And now he was in the news yesterday, sort of, with ESPN's Jerry Crasnick reporting via Twitter that Chavez plans to "audition for all 30 clubs" after the new year.
It is, of course, almost impossible to see this story ending well. I don't know how to check, but I have to imagine that the list of players who played fewer than a season's worth of games from ages 29 to 32 and went on to have even a moderately successful season at age 33 or better is, well, non-existent.
But it'd be great to see him catch on somewhere. Get a minor league contract, make a team as a righty masher off the bench, sometimes fill in at first and third. It's awfully sad that that seems like the best a talent like Chavez can hope for, and it's hard to imagine being two years older than I am now and having the career I planned my whole life for existing mostly as increasingly distant memories. But then, I guess he's been given somewhere in the neighborhood of seventy-five million reasons not to be too broken up about it. Happy birthday, Mr. Chavez!