>By The Common Man
Rob has an interesting question up in today's Mendozas about Ted Abernathy, the submarine-style former Cincinnati Reds and Kansas City Royals relief ace, pointing out "His 1.70 ERA in his last season is the lowest in history for a pitcher with at least 50 innings. I wish I knew why the Royals released him after that season, and why nobody else picked him up. Because even at 40, he could still pitch." Well, The Common Man is a sucker for a lot of things. A mysterious player disappearance is one of them. Submarine right handed relievers are another. And digging through newspaper archives is a third. The trifecta in hand, TCM went digging.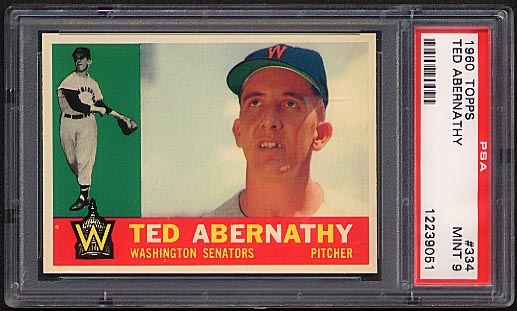 Abernathy was a huge prospect when he broke camp with the Washington Senators in 1955. He was fresh out of the army, but had shown tremendous promise in the Senators' minor league system in the years before that. Alas, things went poorly in the nation's capitol. Abernathy had a lot of trouble finding the plate (this actually was a problem for Abernathy throughout his career, as he would walk 4.6 batters/9 innings), and posted huge ERAs. From 1955-1957, Abernathy pitched in 71 games, starting 34 of them. He posted an ERA of 6.02 with an 8-22 record, and was walking almost as many batters as he was striking out. He never started another game again.
Likely, the high number of minor league innings, and huge number of pitches his wildness required him to throw, are what ruined his shoulder in 1957. Abernathy needed significant surgery, and he made a strategic decision to drop his arm angle from three-quarters to sidearm or submarine. He bounced around the minors for the next few seasons and got his last real shot in 1963, at 30 years old, for the Cleveland Indians.

Abernathy made the most of it. As a ground ball specialist, he shined out of the bullpen. In 59 innings, he struck out 47 and posted a 2.88 ERA. He won seven games and saved 12. He quickly became one o fthe most valuable relief aces in baseball. For the Cubs in 1965 he threw 136 innings, saved 31 games, and had a 2.57 ERA. In 1967, he saved 28 for the Reds in 106 innings with a 1.27 ERA. In 1970, the struggling Royals fired manager Charlie Metro and replaced him with pitching coach Bob Lemon, who had worked with Abernathy in Cleveland. Less than a month later, Abernathy was acquired from St. Louis and solidified the back of Kansas City's bullpen.
In two and a half seasons, Abernathy appeared in 144 games, winning 16 and saving 40, with an ERA of 2.31 in 195 innings. In 1971, the Royals were surprising contenders in the AL West, winning 85 games and finishing second in the division behind the A's. Abernathy saved 23 games in 63 appearances and 81 innings. His 1972 season, as Rob pointed out, was particularly impressive. While his K/9 fell, he also posted his lowest BB/9 of his career and continued to generate ground balls. His 1.70 ERA didn't account for the four unearned runs he allowed in 58 innings, but he still had an excellent year.
The team, however, dropped below .500 again, winning 76 games and finishing 4th. Lemon was fired, replaced by rookie manager Jack McKeon (who was just 41 years old). In his press conference, team owner Ewing Kauffman announced "I want a younger manager…[and] I did not want to lose Jack McKeon from our organization. Four months later, in early February of 1973, the Royals released the 40 year old Abernathy. Royals GM Cedric Tallis told reporters that Abernathy "did an outstanding job. But at this point, we feel Ken Wright and some other younger pitchers are ready to move into the picture. We feel that making the move now, Abernathy will have a better chance of landing with another team. He is one of the finest individuals we have ever had." Wright had finished 1972 with a 0.96 ERA in 47 innings for McKeon in AAA Omaha.
No one came calling. Abernathy signed on with the independent Wilson Pennants of the Carolina League, where he had a 3.86 ERA in 35 innings. The 1973 Royals were again competitive, finishing in 2nd place with 88 wins. They finished 10th in the American League in runs allowed, and the bullpen finished with a 4.26 ERA (the league bullpen ERA was 3.65). Ken Wright, the pitcher Tallis specifically mentioned as a replacement for Abernathy, went 6-5 with a 4.91 ERA in 81 innings. Among the club's relievers, only 23 year old rookie Doug Bird finished with an ERA below 4.00 (Bird was 4-4 with a 2.99 ERA in 102 innings, and saved 20 games).
TCM couldn't find any additional information about the end of Abernathy's career. Based on circumstantial evidence, it seems likely that Abernathy was just Lemon's guy. And at almost 40, was probably seen as a leader in the clubhouse. As a young manager coming in, McKeon may have felt uncomfortable with a team leader, who presumably had been loyal to his predecessor, who was almost the same age as he was. Indeed, the oldest player on the '73 squad was 36 year old reliever Joe Hoerner, who was purchased mid-season from the Braves. Either McKeon felt more comfortable with "his guys," or the front office made a concerted effort to "go younger" throughout the organization. It may have been a wasted opportunity, as a stronger bullpen could have helped the Royals compete event closer with the A's.
Sadly, we can't ask the best source about what happened that winter in Kansas City. Abernathy returned home to North Carolina and seemingly never worked in baseball again. He passed away in 2004 from complications of Alzheimer's Disease.