Welcome to the 2011 MLB Expansion Draft with the Brooklyn Hipsters and Portland Webfoots. If you need to remind yourself of who has been protected, please click here, and if you have any questions about the draft rules, go here. And you certainly shouldn't leave before you read what Keith Law had to say about all this.
But here, right here, is where it all begins. A coin flip. This will decide who gets to draft first. Bill called tails, and the quarter came up heads, so TCM gets the first pick for his Brooklyn Hipsters. After that, Bill will get the next two selections for the Portland Webfoots, and after that we will go in alternating fashion.

Round 1


Pick 1 – Brooklyn Hipsters select CF B.J. Upton, Tampa Bay Rays
TCM: It was absolutely impossible for the Rays to protect everyone they needed to, and the decision to leave Upton off must have been agonizing. We only get him for one season, before he will be a Free Agent. While we'll try and re-sign a potential franchise CF to a multi-year extension, we can also trade him and his incredible defense for young players.
Pick 2 – Portland Webfoots select SP Dallas Braden, Oakland A's
Bill: There was a big dropoff in current big-league talent after Upton. I wanted an established big leaguer with this pick, though, and someone that our west coast fans would be somewhat familiar with (we'll count on the free agent market for some minor-star power, and for now we'll just settle for familiarity). Braden isn't really my kind of pitcher, with a below-average strikeout rate and a way-above-average fly ball rate, but he's shown over the last few years that his stuff works in the bigs. In retrospect, I certainly could've waited on Braden, who is out for the year after shoulder surgery. But I like his chances to bounce back and anchor this young (and, for a year or two, terrible) rotation before he's up for free agency in 2014.
Pick 3 – Portland Webfoots select C Wilin Rosario, Colorado Rockies
Bill: Rosario, to me, is the best prospect in this draft. He came into 2011 ranked somewhere between 30 and 70 on all the major top prospects lists, and was given "five-star" status by Kevin Goldstein, who loves his defensive abilities and power. He's a bit of a free-swinger, but I'll live with a barely-over-.300 OBP from my catcher if he hits 25 homers and plays stellar defense. Or I'll live with it in 2012, at least — when he'll be a 23 year old rookie — and we'll see where his development takes him from there.
Pick 4 – Brooklyn Hipsters select SP Phil Hughes, New York Yankees
TCM: Hughes has struggled in 2011, which is why our buddies at It's About the Money, Stupid, left him off. Undoubtedly, they were hoping we'd be scared off by his medical report. But the upside for a healthy Hughes, who will be under team control for another two years, is too high.
Pick 5 – Portland Webfoots select 1B Paul Goldschmidt, Arizona Diamondbacks
Bill: Goldschmidt is almost certainly the best power hitter available in this draft, so I was happy to get him here. He's never been considered a top prospect, but he's just continued to improve at every level, and now has 21 homers in just 65 games at Double-A Mobile, where he's hitting .316/.438/.636. He also moves well for a 250-pounder, and can hold his own with the glove at first base. We'll plug him into the #3 or #4 spot on opening day 2012 (at age 24) and watch him become, at least, an above-average starting 1B.
Pick 6 – Brooklyn Hipsters select SP Neil Ramirez, Texas Rangers
TCM: Ramirez is a 2007 1st round choice who is excelling at AAA Round Rock this year. He misses a lot of bats and will only be 23. There are some real durability concerns, and some control issues, but his upside looks pretty good at this point. Still, this pick is a potential misstep, as TCM went for the shiny prospect as opposed to the steady, but expensive Adrian Beltre. Would the Hipsters have been able to unload his contract? And if not, will he continue to be good enough to build a team around for 4 more years?
Pick 7 – Portland Webfoots select SP Arodys Vizcaino, Atlanta Braves
Bill: This was my first high-risk, high-reward pick, and my first one that probably won't help us much (if at all) in 2012. Vizcaino, just 20, has had injury problems already, and his relatively slight frame for a pitcher portends more of them. But he also has the stuff to be a dominant starter, which is the stuff that put him #47 on Keith Law's 2011 list and #50 on Kevin Goldstein's. We'll handle him with kid gloves and hope like hell that he turns into that, but if his durability issues force him to the bullpen, we'll live with a cost-controlled lights-out closer. (There are darker possibilities, too, of course, but we have way too much beer and coffee to think that way in Portland.)
Pick 8 – Brooklyn Hipsters select RF Johermyn Chavez, Seattle Mariners
TCM: No doubt about it, this was a reach. He's a strong right-handed hitter, who could end up being a mashing corner outfield. He also has struck out 72 times in 70 games at AA Jackson. TCM is hoping that a focus on controlling the strikezone can help Chavez reach his impressive potential.
Pick 9 – Portland Webfoots select 2B Cord Phelps, Cleveland Indians
Bill: Back to the safe and MLB-ready: Phelps has an awesome name, was profiled by TCM here last year, and will be in our opening day lineup at either second base or third, depending on how the rest of the roster shakes out. Good bat, passable glove, average player, ours cheap until 2017 or so with no development costs.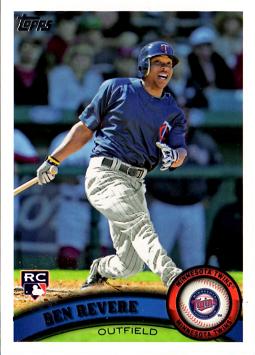 Pick 10 – Brooklyn Hipsters select CF Ben Revere, Minnesota Twins
TCM: The Common Man swipes one here. Revere is a legitimately elite defensive player who has marginal offensive ability. But he profiles as a starter, is incredibly fun to watch play, and immediately becomes the successor to BJ Upton, who is looking more and more like trade fodder.
Pick 11 – Portland Webfoots select RF Josh Reddick, Boston Red Sox
Bill: I liked Revere around here too, but I'm almost as happy with Reddick. Not a huge prospect by any means, but he profiles as an average-ish starter somewhere in the outfield, with pretty good power and roughly average everything else. And again, he's that right now, and will be that in 2012, so we can plug him in and let him get whatever additional development he has in store done at the major league level.
Pick 12 – Brooklyn Hipsters select RF Will Venable, San Diego Padres
TCM: Venable has had a rough 2011, but TCM still loves his all-around Shane Mack-lite game. Suddenly, Brooklyn looks to have the best defensive outfield in baseball, if they hold on to all three guys selected so far.
Pick 13 – Portland Webfoots select SS Eduardo Escobar, Chicago White Sox
Bill: A team needs a shortstop, and my team needs a 22 year old Gold Glove-caliber shortstop who won't cost us any money for a long time. Kevin Goldstein loves this guy, despite the total lack of offensive performance so far (he's currently at .252/.289/.370 at AAA, which is about what his past lower-level performance suggested), saying he "could be a good everyday shortstop with more than enough bat to easily play every day." I'll be happy with "everyday shortstop," or with a Rey Sanchez-like super defensive sub if the bat never develops (or another shortstop does).
Pick 14 – Brooklyn Hipsters select 2B Johnny Giavotella, Kansas City Royals
TCM: When TCM met Nick Scott this Spring at Royals camp, Nick spent the whole evening going on and on about Giavotella. Then, he left him off the Royals' list, so TCM pounced. He's got a .370 minor league OBP, and has looked even better in the high minors, and will only be 24.
Pick 15 – Portland Webfoots select SP Mike Leake, Cincinnati Reds
Bill: He's had an up-and-down 2011, but the performance is solid, and you're talking about a kid who was a top-ten pick just two years ago. He'll be our #2 starter right out of the gate (#1 if I'm guessing wrong about Braden), and he won't embarrass us, with some potential for a lot more than that down the line. He'll still be just 24 after all. And, insert your own hackneyed joke about shoplifting here!
Pick 16 – Brooklyn Hipsters select 1B Mat Gamel, Milwaukee Brewers
TCM: Given the lack of an internal replacement for Prince Fielder, TCM was surprised to see him available here. But Gamel is going to be 26 and does not project to be a masher so much as a Billy Buter-lite. TCM will take it, and install him at either 1B or DH.
Pick 17 – Portland Webfoots select SP Casey Crosby, Detroit Tigers
Bill: Super high-risk, high-reward pick #2: he's only 22 and has already suffered two pretty huge injuries, but if he can get healthy and stay healthy, he can be a star. The perfect-world projection for a rotation of Vizcaino-Crosby-Leake is a really, really good one.
Pick 18 – Brooklyn Hipsters select LF Mike Morse, Washington Nationals
TCM: Morse has hit well in each of the last two years, but is a bad defender. So TCM is going to install him at DH and just let him rake. Like Gamel, Morse is not really a bopper, but a valuable offensive piece nonetheless.
Pick 19 – Portland Webfoots select RP Michael Dunn, Florida Marlins
Bill: His 2011 performance has slipped a bit since I made this pick a few days ago, but Dunn still has the stuff to be one of baseball's best lefty relievers, and is team controlled through 2015. Draft him late in your fantasy leagues as the Webfoots' 2012 closer.
Pick 20 – Brooklyn Hipsters select 3B Chris Johnson, Houston Astros
TCM: Johnson was solid in 362 PAs in 2010, thanks to a .387 BABIP. TCM is praying the lightning strikes twice here, but it probably won't.
Pick 21 – Portland Webfoots select SP Brett Cecil, Toronto Blue Jays
Bill: Meh. He had a nice year in 2010, is a former first round pick, and is still just 24. We're counting on him only as a back-of-the-rotation starter at this point (and for a team as poor as this one is probably doomed to be, almost anyone can be a back-of-the-rotation starter), and if he gets back the two miles an hour his fastball lost between 2010 and now, he could be a lot more than that.
Pick 22 – Brooklyn Hipsters select SP Kevin Correia, Pittsburgh Pirates
TCM: Correia has gotten a lot of good buzz, thanks to his 9 wins in 2011. As he's written before, TCM isn't much of a believer in Correia's continued success. But he's hoping the positive buzz will allow him to trade for some prospects.
Pick 23 – Portland Webfoots select OF Lucas Duda, New York Mets
Bill: Tentatively penciled into left field, though DH is probably his natural position. He's got power and has hit .310/.398/.606 in his 108 games in AAA. A good power lefty to follow the righty Goldschmidt in the order.
Pick 24 – Brooklyn Hipsters select OF Ben Francisco, Philadelphia Phillies
TCM: Francisco is a fairly anonymous 4th outfielder, who would do well in a platoon. TCM, again, hopes to exchange him for some young talent, understanding that the return will probably be low.
Pick 25 – Portland Webfoots select SP Aaron Miller, Los Angeles Dodgers
Bill: Miller won't be a star, but the 2009 first round pick should be a solid mid-rotation starter. I was hoping to plug him into the #4 or #5 slot to start 2012, but a setback in AA to end last season has him back in high-A, so he's going to need to come a long way very fast to be ready to open the season. Either way, we expect him to be a rotation mainstay for some time.
Pick 26 – Brooklyn Hipsters select Utility player Alexi Amarista, Los Angeles Angels
TCM: Amarista flew across three levels of the Angels' system last year as a 21 year old, and was successful at each one. While he has had an absolutely abysmal first 50 plate appearances in the Big Leagues this year, TCM is really hoping that the speed he showed throughout the minors will help him be an acceptable utility guy at the Major League level. He's only 23, so he can spend some time at AAA, working on his selectivity.
Pick 27 – Portland Webfoots select 3B Josh Bell, Baltimore Orioles
Bill: Bell was a hot prospect coming into 2010, but struggled in his 50-game sample and has been buried in the minors ever since. He hasn't done much to remind people of his existence, either, hitting .252/.293/.431. He'll get a chance to win our third base job in 2012 (though as a switch hitter who has had serious troubles against lefty pitchers, he may need a platoon partner either way).
Pick 28 – Brooklyn Hipsters select P Mitchell Boggs, St. Louis Cardinals
TCM: Boggs was an effective reliever in 2010, and LaRussa unexpectedly pulled him from the closer role this year, after Ryan Franklin proved ineffective. The Cards stashed him at AAA, and were trying to convert him back to a starter, but he's back thanks to all the injury problems St. Louis is having to mange. Whether he makes it as a starter or a reliever, TCM will bite on an intriguing project who will be under team control for 4 more years.
Pick 29 – Portland Webfoots select 2B Charlie Culberson, San Francisco Giants
Bill: I wish I'd gone with Brandon Crawford now for the positional flexibility, but don't tell Charlie that. The 2007 sandwich pick has really been struggling in AA (especially lately, and especially in the days since I made the pick), and may be further away than I had initially hoped. In any case, he'll get a chance to compete with Phelps and Bell in what is so far a three-man race (with more on the way in rounds 2 and 3) for those 2B and 3B spots.
Pick 30 – Brooklyn Hipsters select IF D.J. LeMahieu, Chicago Cubs
TCM: What do you want? The Cubs stink. LeMahieu hit .325 across three minor league seasons, and made the jump to Chicago this month from AA thanks to a ton of injuries. Whatever, we'll take it. We don't even want your approval.

After Round 1, the rosters look like this. TCM has drafted an entire outfield and at least 3/5 of a starting rotation (depending on how Mitchell Boggs grades out after the season). He lacks a lot of the upside of Bill's team, however, in Rosario, Goldschmidt and Vizcaino, among others.

Click here to continue on to Round 2.