>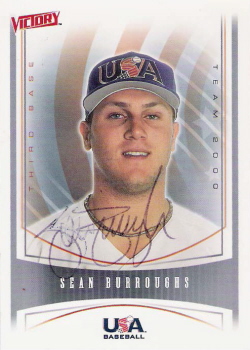 By Bill


I'm not a prospect guy. I like reading all the top prospects lists and all that, but it's not something I pay attention to on any kind of regular basis. I enjoy minor league games, but because they're cheap and fun. I tend not to watch all that much baseball (especially, I discovered last weekend, if one of my companions is my three year old).
There might be only one time in my life that I've gone to a minor-league game specifically interested in watching one player play. It was fully nine years ago now, and that player was Sean Burroughs.
Taken by the Padres with the ninth overall pick in 1998 (11 spots ahead of C.C. Sabathia), Burroughs was destined for stardom basically from birth (he is the son of a former MVP, after all). His minors page on Baseball-Reference says that he peaked in 2002 as Baseball America's #4 prospect, but I remember him as even higher than that. Maybe because he had been a top-ten prospect three years in a row.

At any rate, by the time the (now sadly defunct) Portland Beavers rolled into the Tacoma Rainiers' (now happily replaced) Cheney Stadium sometime early in the 2002 season, Burroughs was a big deal. People — not a large gathering, in Mariner country, but enough to make it a very unusual sight — gathered early to watch him take grounders and such. He signed some autographs down the line before the game (I just missed). There was a smattering of cheers whenever he came up.
I don't think Burroughs did anything terribly special in that game. He might have been 2-for-5 with a pair of singles. But — and maybe part of it was an effect of the hype, but certainly not all of it — he just looked special. One of those tall, thin, wiry figures, with the solid batting stance and the silky-smooth left-handed swing, that makes you think he's a "natural." He had phenomenal discipline for such a young hitter, too, only putting that sweet swing on the right pitches. No power to speak of, but he had everything else. In 154 AAA games between 2001 and 2002, he hit .316/.382/.461. Which doesn't sound spectacular, but then, he was just 20 and 21, ages at which Wade Boggs was putting up sub-.400 slugging percentages at AA.
Anyway, I came away just as sure as everyone else was that he'd be a superstar. You probably know what happened; he started out well enough, with a bad-but-passable-for-a-21-year-old showing in 2002 (.271/.317/.323 in 206 PA) and a downright promising 2003 (.286/.352/.402, 105 OPS+ in 578 PA). It was all downhill from there, and quickly. Burroughs was sent back to the minors in 2005, played the final eight games of his major league career in Tampa Bay in 2006, and the last four games of his minor league career back in Tacoma in 2007. (Whether his problems were because the Padres tried to make a power hitter out of him or for some other reason is well beyond the scope of this.)
And that was it for three full years, and realistically, close to five. I can't find anything on where Burroughs has been, but it hasn't been playing organized American pro ball. Then here we are, 2011, thirteen years after draft day, and nine months after Burroughs' 30th birthday. This spring, he signed a deal with the Diamondbacks, and reported to AAA Reno. In 27 games (77 plate appearances) there, he's hit .386/.434/.571.
And yesterday, he got the call to join the big club. He hasn't made an appearance yet, as of this writing (as the D-Backs enter the 11th–they used Willie Bloomquist instead to pinch-hit against a righty, so I'm hoping for their sake that he's not actually available tonight). And, frankly, I don't see a lot of reason to expect him to do well — he still doesn't have a lot of power (six doubles, two triples and a homer), and he's not drawing walks the way he used to (just six of them so far, about a 30-40 walk pace over a full season).
But that's not really the point, is it? He's back, long after that should've been remotely possible, and I know I'll be rooting like hell for him.