>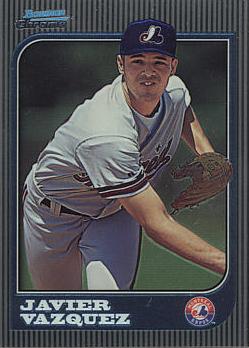 By Bill
We're doing a few of these little "X Factor" posts in conjunction with ESPN's season previews, which will run on the big site tomorrow.
I think the Marlins are going to be better than a lot of people expect. Yes, they made some bewildering moves this offseason, one of which involved sending Dan Uggla, arguably the team's best player last season, to the division rival Braves. But they've made some improvements, too, and are still better than the Mets and Nationals. I think they'll surprise some people.
To do that, though, will require another good pitcher or two to go with Josh Johnson. And one of the reasons I like the Marlins this season is that they've got plenty of possibilities in that area: Ricky Nolasco has had great peripherals for the last three seasons, but they haven't translated to even a decent ERA since 2008; Anibal Sanchez finally put together a very solid full season last year, and could emerge as an excellent number-two starter if his mysterious ability to avoid the home run continues. The most intriguing one, though, and thus my pick for the team's "X Factor," is the one who was the best pitcher in the division two seasons ago: Javy Vazquez.
The path Vazquez's career is awfully interesting, and raises some interesting questions. It's almost certainly more complicated than the usual "guy who can't get it done on the big stage" silliness, but there also may well be a bit more to that silliness than most stat guys want to admit.
For the sabermetrically-minded fan or analyst, it's easy to look at Vazquez and note that with the Yankees in 2010, his fastball was down over two miles an hour on average (from 91.1 to 88.7, per FanGraphs), and conclude that that led to the drop of almost three strikeouts per nine innings (9.77 to 6.92) and the more than doubling of his home run rate (0.82 to 1.83), and that compensating for the loss of velocity led to a more than doubling of his walk rate (1.81 to 3.72), and that these things — not some fear of New York or pinstripes or something — caused him to have the worst year of his career in 2010. And you might well be right.
But consider: 2004, his one other year with the Yankees and now the second-worst of his career, paints a surprisingly similar picture. Compared to his 2003 with the Expos, Javy's fastball dropped in average velocity by almost two miles per hour (91.8 to 90.1), his strikeouts dropped by more than two and a half per nine (9.40 to 6.82), with smaller but still significant jumps in his walk and home run rates (2.22 to 2.73 walks per nine and 1.09 to 1.50 homers per nine). The following year he was with the Diamondbacks, and those rate stats didn't quite snap back to their excellent 2003 levels, but each improved on his dreadful 2004, with significant improvements in his walk and strikeout rates.
On one hand, Vazquez's falloff was more pronounced this time than it was in his last tour with the Yankees, and he's pushing 35 now, so we might expect that this one's more likely to be permanent. On the other, though, 2009 was the best year of his career, so maybe the falloff was bigger because the numbers he was faling off from overstate his true talent. 2009 has never been who Vazquez is, but this analysis certainly makes a bounce back to his still-excellent 2005-2008 levels easier to imagine.
So is Javy really just allergic to pinstripes? I still kind of doubt it, but the parallels to 2004 make it seem more plausible than you might think. The Marlins are betting that he is, and that makes him the team's X Factor for 2011.