>By Ian Heisel
(Editor's Note: Ian Heisel was a minor league pitcher in the Pirates organization for two years before joining Independent League Washington Wild Things for two seasons. Ian has agreed to share his story as a minor league ballplayer with us here at The Platoon Advantage. The first and second installments of his story are here and here respectively. Today, Ian discusses his first days at Pirate City for extended Spring Training, makes a bad first impression, and bears witness to the end of the road for several young hopefuls.)
I was exhausted when I finally got to my room and got a chance to meet my roommate, Angel, who didn't speak English. All I wanted to do was sleep but it was time for dinner at Pirate City. Thankfully, Angel and I were able to communicate enough to get to the buses that would shuttle us to the complex. Eating with the rest of the prospects, I started to get a little more comfortable, until Tom Prince, the former Major League catcher who was currently one of the minor league instructors, came up to me and growled, "Take your hat off during dinner, and don't ever wear that shirt again." Ohh great this is starting off real well.
As I was eating, Jake Cuffman, a fellow pitcher and Pittsburghian, came up and introduced himself to me. Finally a person I could relate to. And he spoke English! Jake had been drafted out of high school. He invited me over to his table, and I ended up seating with a group of other young pitchers who became friends, including Kevin Miller and Joe Salas.
The next morning, as I was going to breakfast, I was told I am getting a new roommate. Nick Gravelle, another young pitcher, was down in extended Spring training to rehab his arm and needed place to crash. Finally, I thought, someone I could talk to and could help ease my transition to Pirate City. In 2001, he had been signed as an amateur free agent like me, and had worked himself up as high as AA Altoona [for a single inning of work in 2002]. After talking to him, I was excited to get out on the field and start working.
Then I got some awful news when one of the athletic trainers told me that I couldn't do anything until after a physical exam. I thought that was my whole purpose in being down here was to get started a little early but the doctor was on vacation and wouldn't be in until later in the week. While we waited for the doc, I was able to take care of some of the other tests they run on all new prospects. I had blood drawn, an EKG to look at my heart, a flexibility test to gauge the range of motion in my arm and even my blood pressure (which was rising, the longer I was being kept off the field). Let's just say they try to cover their butts as much possible, medically speaking!
After a couple of days I got my physical and was able to get into a routine. The days started at 7 AM, when the buses left for the field. We would eat breakfast at 8:00. Dressed and on the field by 9. Then we played catch and had PFP (pitchers fielding practice), team defensive drills, batting practice, and then a game at 1. I was told that I would not throw in any games until I got to my minor league assignment, which was still a couple weeks away. Since I could not get into any games they had to give me something to do, and it was usually chasing foul balls. Dinner was at 5:00 and we had the rest of the day to ourselves, when we would either play cards and video games. And that's it. What I came to learn is that extended Spring Training is long and boring.
There was also still a lot of uncertainty. The draft was still 12 days away and some of these kids did not know their fate yet, but knew that a lot of them would be cut in the coming weeks. A lot of guys felt vulnerable.
Within a few days before the draft I found out how ugly baseball can be. Gravelle didn't like the way the Pirates wanted him to handle his arm injury, so he quit! The guy had reached Double A pretty fast, just two steps from the Majors, but started to hate baseball and he gave it up, just like that. So I was told I would get another roommate. His name was Brad Clapp. He was from Washington and he was a Draft-and-Follow guy [under previous collective bargaining rules, an teams held the rights to a drafted player for a full year, and could select an underclassman, follow his performance for a year, and then sign them just before the next draft]. He was picked in the 19th round out of high school and didn't sign, but went to a Junior College for a year to improve his "money situation". The Pirates ended up giving him $350,000, making him a Bonus Baby to us, who didn't get nearly as much to sign. We knew he was safe from the impending cuts.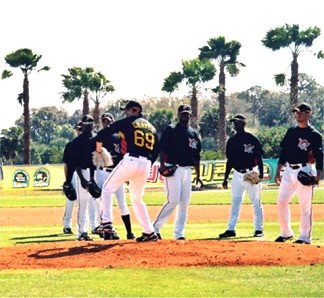 Finally the draft came and went and a huge new batch of kids began arriving at Pirate City and the hotels at different times. We had about 4 days to meet each other and, most importantly, find out who was going to Williamsport and who was staying in the Gulf Coast League. Once again, the ugly part of baseball reared its head. Brian Graham, the director of player development, began calling kids over and telling them where they are going. Sadly, some of the players were going home. With all the new draftees, there simply wasn't room or need for everyone at Pirate City. I remember seeing at least 7 guys get their walking papers. Some, the younger guys, seemed shocked. The older players looked resigned, as though they had known what was coming. How can a game I love and enjoy playing so much, be so cold and impersonal? I could finally see what I was getting myself into.