>
By The Common Man

Last night, Reds reporter John Fay complained that statheads don't really like Johnny Gomes (h/t to Redleg Nation), saying "As soon as Dusty Baker basically named Gomes his everyday left fielder, the outrage poured from Twitter and the blog world. The disdain for Gomes is largely rooted in sabermetrics." Having not heard that outrage, TCM thought hard about why anybody would vent that much spleen over Gomes. Sure, he's a good platoon bat and a terrible defender, and playing him fulltime is likely to cost the Reds a bit this year, but how can you dislike a guy who grew up quasi-homeless, had a heart attack at 22, and overcame organizational mismanagement in Tampa to craft himself into a legitimate big league ballplayer?
The answer, of course, is that Gomes' weaknesses (right-handed pitching and defense) simply overshadow his strengths (hitting lefties) as a ballplayer. But that doesn't matter, because TCM likes him now, and will root for him. Despite his inclination to rationally assess ballplayers on their abilities, The Common Man freely admits to having completely irrational feelings about some of them. No amount of statistical kung fu will turn TCM around on these guys one way or another. His reaction to the following players is visceral and palpable.
All-time Faves:
Terry Mulholland (124-142, 4.41 ERA)
Mulholland was a good pitcher for about three years, and a pitcher for about six dozen more. He was left-handed, and they don't really have an expiration date. Given his two seasons with Minnesota in 2004 and 2005, in which he had a 4.89 ERA, you'd think some of the shine would have rubbed off on Mulholland. But it never did, mostly because every time Captain Graybeard pitched, TCM pictured this:

Look at how the bottom half of his body is angled so awkwardly compared to his top half. And look at how the left arm is cocked while the glove appears to be keeping the rookie Mulholland from seeing where the pitch is going. And, to the young The Common Boy, it looked like his arms were doing a strange twisty thing or were on backwards. Don't know why, but TCM always thought this was cool.
Dave Henderson (.258/.320/.436, 197 homers)
TCM had never heard of Dave Henderson before 1988, when he leaped to superstardom with the Bash Brothers. He had been a decent player with the Mariners and Red Sox, and had that big homer in the '86 playoffs, but nothing about Hendu at all prepared baseball for his .304/.363/.525 breakout. TCM went to A's training camp in 1989, just after his MVP caliber year with the A's. Henderson was joking and smiling with fans, making sure they knew he was DAVE Henderson, because "Rickey is my brother." Also, the man had a helluva mustache.
Mitchell Page (.266/.346/.429)
Page just passed away this weekend actually. TCM became aware of him while researching the post-firesale A's of 1977, then TCM saw his picture and saw that he had a serious Don Mossi-appeal. Page tore up the minors for the Pirates, who didn't have room for him with Dave Parker and Al Oliver already manning the corners, and no DH. So they dealt him and several others to the A's for 2B Phil Garner. At 25, Page broke camp with the now depleted Oakland team, and hit .307/.405/.521 (154 OPS+) as a rookie with 21 homers and 42 stolen bases in 47 attempts (including making it on his first 26 consecutive attempts). He looked like a complete superstar. He followed that up with a decent season, hitting .285/.355/.459, but his baserunning and defense were both terrible. By 1980, Page was reduced to a platoon DH by Billy Martin, yet was being paid like a superstar. After winning his arbitration case in 1981, he was making at least $250,000 (and perhaps as much as $400,000) but hit .141 over his first hundred at bats. So Martin optioned him to Tacoma just before the baseball strike. His career never recovered. He saw part-time work with the A's for the next couple years, and finished up in the Pirates system. He could still hit, but it's clear he was on the bottom of the depth charts. It's unclear exactly what happened that short-circuited Page's career (his later drinking problem suggests that it may have been self-induced), but you have to look at that 1977 season and wonder what might have been.
Steve Balboni (.229/.293/.451, 181 homers)
It's the name, and the nickname, and the mustache, and the power, and the strikeouts. It's the fact that Steve Balboni did exactly one thing well on the baseball field, hit the ball a long, long way. It's that, in 1990, he had 6 doubles in 307 plate appearances, but 17 homers. He scored 24 times, which means that other players knocked him in only 7 times all year. It's that, despite playing 11 seasons and hitting 181 homers, he was actually below replacement level for his career. If you don't love Steve Balboni, you don't love ice cream on a hot day.
Oddibe McDowell (.253/.323/.395)
It's the name. Oddibe (Oh-dib-be) McDowell just rolls off the tongue. McDowell was drafted in 1984, after being voted the College Baseball player of the Year by both the NCAA and Baseball America, signed, and went straight to AAA to start 1985. After 31 games and a .400 batting average, the Rangers called him up at just 22 years old. McDowell showed good power immediately, and some patience too. Like with Mitchell Page above, it's unclear what exactly stalled McDowell's career. He went to Cleveland for Julio Franco in 1989 and stunk on ice, but finished the season strongly with the Braves. But he completely tanked in 1990 and was basically done at 27.
Rob Deer (.220/.324/.442, 230 homers)
Deer struck out so much it was hilarious, but was still a very good player. He had patience and played good defense, and had the kind of power you'd expect from a guy who swung from his heels every time. Also, there's a good chance he was Major Dad. Deer's time on the early '90s Tigers was impressive, with other huge K guys Cecil Fielder, Mickey Tettleton, Tony Phillips, and Travis Fryman surrounding him. The club was wonderfully entertaining. On April 24, 1993, Bill and TCM were in the stands as Pat Mahomes got rocked for 10 runs in less than 3 innings, and ended up losing 17-1. We stayed the whole game, begging Rob Deer to get more at bats and to strike out at least once for us. Kirk Gibson flew out in the 9th with Deer on deck, and the we were denied. It still is probably the most fun TCM has had at a ballpark, since everything was just a joke from the 2nd inning on. Thanks for the good time, Rob.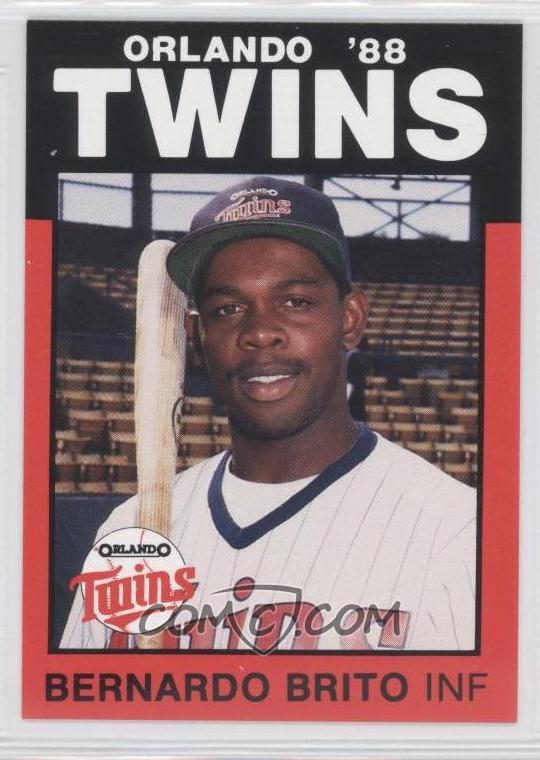 Bernardo Brito (.219/.237/.466, 5 homers in 76 PAs)
Brito was a minor league journeyman who debuted in the minors in 1981, and didn't make the majors until 1992. He hit 295 homers across 16 seasons, and TCM remembers at one point hearing he was the minor league leader in homers. Whether that's true or not, TCM has no idea. But he was a cool Crash Davis type. Brito played outfield, and probably wasn't that great at it, and he had absolutely no plate discipline. But he had power in abundance, and The Common Man remembers hoping the Twins gave him a legitimate shot. They didn't, and TCM knows now it never would have worked out if they had.
Alex Cole (.280/.360/.351, 148 steals)
It's the glasses.
Looking at the list above, it's clear that TCM just has a soft spot for guys whose baseball cards he collected in the '80s. But who doesn't make the cut? Who will forever and always suck, no matter how many babies they rescue from burning buildings or homers they hit in the postseason?
Burning, enduring hatred:
Von Hayes (.267/.354/.416, 143 homers, 253 stolen bases)
The Common Man knows he's not alone here. Virtually all of Philadelphia hates Hayes, who was acquired from Cleveland for five players (including Julio Franco). In training camp, Pete Rose quipped that the new Phillie should wear the number 541 on his jersey. Hayes was incredibly talented and was sold as such by Philadelphia management, so there was always a vague notion that he never lived up to his potential. But he really was a very good player for about 10 years. TCM's irrational dislike stems from Hayes' baseball cards, in which he always looked tall and gangly, more like a basketball player. The uniforms didn't help. The Phillies' pinstriped home whites were terrible, and the blue roadies just offensive. For whatever reason, TCM thought Hayes looked like a preening dandy.
Howard Johnson (.249/.340/.446, 228 homers, 231 steals)
When HoJo was good, he was great, especially in 1989 and 1991, when he was the first two-time 30-30 guy. But he played for the Mets, who were bad boys back in those days, and his mustache made him look like a villain from the Wild West. It didn't help that Johnson had clearly identifiable weaknesses, his defense (from bad to atrocious) and the strikeouts (which TCM believed were a lot worse in the late '80s), and that he was so inconsistent from season to season.
Bernie Williams (.297/.381/.477, 287 homers)
Everybody loves Bernie. Apparently he's something of a renaissance man and just a sweet guy. Plus he was really, really good for a lot of excellent Yankees teams. Which is the problem, as far as TCM is concerned. Rightly or not, TCM always associates the Yankees' obnoxious success around the turn of the century (how weird is it to say that?) with Bernie Williams, rather than Derek Jeter. Sorry, Bernie.
Carmen/Carmelo Castillo (.252/.298/.418)
Castillo was known as Carmen as late as 1988 with the Indians, but as soon as he signed with the Twins, decided he wanted to be known as Carmelo, which a) sounds like a candy and b) is harder to say. TCM never really forgave him for this. Pick and name and go with it. This goes for Joey/Albert Belle too.
Frank Thomas (.301.419/.555, 521 homers)
Yes, Thomas is one of the greatest right-handed hitters of all time and a legitimate two-time MVP. He was a wonderful player. But this undying hatred is born of years of watching him launch moon-shots into the LF bleachers at the Metrodome. God, he was unstoppable. But you want to know the crazy part? It's that, even with the Twins' bad pitching in the 1990s, he was actually much worse at the Metrodome than overall. In 98 games, he hit .255/.349/.451 with only 16 homers across 19 years. Against the Twins overall he also fell short of his career marks, hitting .290/.383/.587. As usual, the mind plays tricks. But that doesn't change TCM's mind one bit.
Chuck Knoblauch (.289/.378/.406, 407 steals)
Yes, the 1998 trade ended up being a good thing for the Twins, who picked up Christian Guzman and Eric Milton for Knobby. But, one year after the Twins gave him a five-year, $30 million extension, the ingrate demanded to be traded. The Twins obliged, and karma struck the thoroughly unpleasant Knoblauch in 1999, when he developed the yips. His career fell apart fairly quickly thereafter, and he was eventually implicated in the PED scandals. Twins fans pelted him with batteries, golf balls, and garbage when he played leftfield in 2001, which wasn't cool (also not cool that TCM's brother was tossed from the park because of it, though TCM's brother claims to this day to have not thrown anything), but Knoblauch remains the only player in Minnesota sports history to elicit that kind of hatred.
No matter how they feel about advanced statistical analysis, nobody doubt that baseball is a game of the heart, as well as the head? The Common Man doesn't.