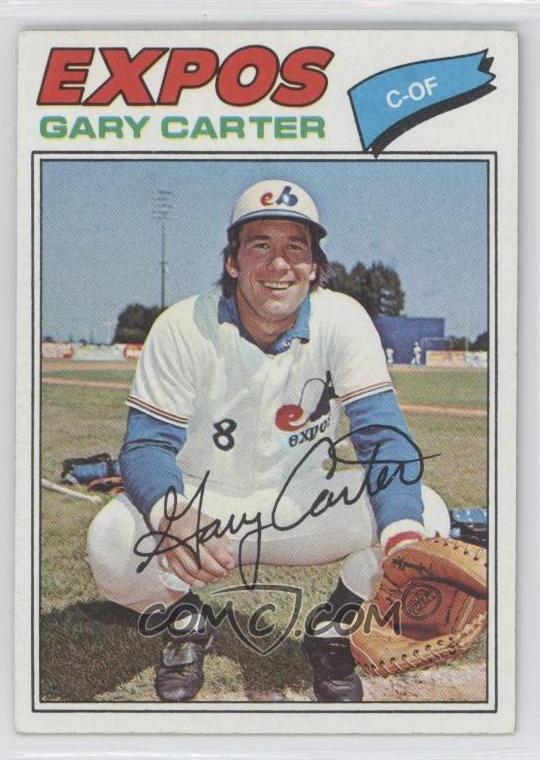 By Bill


I imagine that Gary Carter, who passed away yesterday at just 57 years of age, would've told you his best day involved a lot of time spent with his wife, children and/or grandchildren. I'm just as sure that he'd have his own idea of what his best day in baseball was — his two-homer game in the World Series would be a good bet, or the time he caught Charlie Lea's no-hitter. (Odd, sad side note: Lea, two and a half years younger than Carter, died after a heart attack just three months ago.) Here, I'm going to focus on the regular season, and mostly on hitting. What was the single greatest game of Carter's career?
There's a lot to choose from, obviously. Carter was a Hall of Famer (and a more than deserving one) who appeared in 2,296 games, and 2,056 of them as catcher — fourth most all-time. He had twenty-eight career multi-homer games, 105 games with at least three hits, 42 with four or more RBI [edit: I was looking at incomplete data, so had to fix the numbers]. But here, subjectively selected and ordered, are what might be his five best:

5. May 9, 1978: Expos 7, Braves 6
You think of him as an eighties player, but Carter, 24 years old in May of 1978, is already entering his fourth full season, with one All-Star appearance (and one snub) under his belt. On the evening of May 9, Carter has already logged eight innings behind the plate today — he went 0-for-4 in a loss in game one of the doubleheader. So he gets game two off, naturally.
Or that's how it starts, and how it remains until the sixth. Then, the 'Spos are down by three runs, with a runner on first and two outs. That game's starting catcher, Bob Reece — this was one of nine games and only three starts in Reece's entire big-league career — is due up. It's a bit of a strange, overaggressive time for Hall of Fame manager Dick Williams to reinsert his poor, tired first-string catcher, but he does it anyway. Carter walks, but no runs score, and now Carter is stuck catching the rest of the game.
In the eighth, the Expos remain down by three — 6-3, now — when Carter comes up again with Chris Speier on first and singles to left. Speier will eventually come around to score, but that's it, and the score remains 6-4 Braves into the ninth.
In the top of the ninth, Tony Perez pops out, and Ellis Valentine grounds out. With their backs against the wall, Larry Parrish and Speier both single, bringing Carter up representing the final out, the go-ahead run, and any number of things in between. Carter drives a down-the-middle, first-pitch fastball from Atlanta reliever Eddie Solomon into the stands, giving his team a lead and the eventual win.
By Win Probability Added, this was actually his best career game, at 0.834. I couldn't convince myself to rank it any higher than this, since he played only four innings, but it had to be a pretty great feeling. Here's a good contemporary newspaper recap, with great quotes from Carter ("I was looking for a pitch to hit out of the park…. I just reached back for a little extra and let it fly") and losing manager Bobby Cox.
4. September 3, 1985: Mets 8, Padres 3.
This would be the second of two career three-homer games for Carter (the other came in a 1977 loss), but it lacks the tension of the other games on this list: Carter clubs a two-run shot in the first, a solo leading off the fourth (the first of a back-to-back with Darryl Strawberry), and a three-run homer in the middle of the fifth, the last of which gives the Mets a 7-0 lead over the defending NL champion Padres (and Carter's old manager, Dick Williams) that would never be seriously threatened. The six RBI would end up one short of his career high. Two of the homers came off of Dave Dravecky, the third off Luis DeLeon.
Unfortunately, Baseball-Reference doesn't yet have a game finder that can incorporate both hitting and fielding stats together, but this game put Carter on what I'm guessing would be a pretty short list: catchers with more homers in a game (three, of course) than putouts (two; Rick Aguilera put up just 2 Ks in 6.2 innings, and Jesse Orosco added none over the final two and a third).
3. July 7, 1990: Giants 10, Cubs 9.
In his lone year as a Giant, Carter is in the midst of a nice little comeback season after a terrible final 50 games as a Met (.183/.241/.275 in 166 PA). The Cubs have given young Greg Maddux a 2-0 lead heading into the bottom of the first, when two two-out singles and an error on the shortstop, then an RBI groundout by Matt Williams, bring Carter up with two on and two out, and he drives an 0-2 pitch through the hole between shortstop and third for a two-run single to give the Giants a 3-2 lead.
Leading off the top of the fourth, Carter homers to tie the score at 4-4 and, three batters later, help drive Maddux out of the game. In the fifth, after a Williams homer, Carter singles up the middle, but is stranded. In the bottom of the seventh, the Giants are trailing again (7-5), and Carter comes through again, looping a single to right to plate the Giants' sixth run.
In the ninth, the Giants still trail, 9-8. Les Lancaster strikes out Kevin Mitchell, then walks Williams (not an easy thing to do, typically). Carter singles again, representing the winning run. A wild pitch and a Mike Kingery single later, Dave Anderson, who had pinch-run for Carter, comes home for the walk-off win.
If you're keeping track, Carter had five hits — four singles and a homer — and four of them ultimately proved vital to the Giants' eventual win. He had one other five-hit game in his career, on the Fourth of July, 1985 while with the Mets. But that came in ten plate appearances (5-for-9 with a walk) in a 16-13, 19-inning game, of which Carter caught every excruciating inning. A terribly impressive performance in its own right, but not quite 5-for-5 with a homer.


2. April 9, 1985: Mets 6, Cardinals 5.
In December of '84, Carter was traded by the Expos to the Mets for Hubie Brooks and three other guys; this is opening day, 1985, at Shea, his big debut. Carter has had a bit of an up-and-down day through the first nine. He doubled Keith Hernandez over to third to give Strawberry a chance to put the game away with the Mets up 5-2 in the 7th (he didn't), and has reached base two other times. But: both of those other times were HBPs (one of only two times that happened–Carter had seven separate half-to-full seasons during which he was hit no more than twice), and he's also struck out, allowed a run to score with a passed ball, and allowed a stolen base to pitcher Joaquin Andujar. At any rate, the game is tied at 5 through regulation, and Tom Gorman works around an Ozzie Smith double to keep it there into the bottom of the tenth.
Neil Allen, entering his second inning of work out of the bullpen, strikes out Hernandez. He then delivers a sinker to Carter, who deposits it in the left field bleachers for a walk-off win. According to this account (with a hilariously misleading headline), his new team's opening-day crowd predictably went nuts, chanting their new star catcher's name until he reluctantly stepped back out for a curtain call. The game would set the tone for the Mets' 98-win season, and for the generally very positive relationship Carter would have with the New York fans.


1. September 27, 1992: Expos 1, Cubs 0
So Carter — at age 38, after five years in New York and two in California — has returned to Quebec for his farewell tour. He's not good anymore, but boy, is he beloved by the Expos faithful. He's already announced that he's retiring after the season, so the love is just pouring in.
It's game 156, but all six games remaining on the schedule after this one are on the road. The Expos have had a good season, but aren't in the running anymore, so why keep putting pressure on Carter's tired knees? This final home game of the 1992 season is the last game The Kid will ever play.
He grounds out to second, strikes out looking, gives up a couple stolen bases. But nobody scores, on either side. In the bottom of the seventh, Bret Barberie and Ivan Calderon ground out, then Larry Walker walks, bringing Carter up. The fans, between the tension of the game and sensing the end approaching, are understandably losing their minds. Cubs pitcher Mike Morgan quickly gets ahead 0-and-2. And then…
Well, watch it for yourself. It's a beautiful, beautiful 140 seconds. It's a great swing, and the ball sails over the head of Carter's former teammate and fellow Hall of Famer. And then: that smile!
A lot of players get nicknames like "The Kid," but there's always a reason, and looking at Carter's celebration at the end of that play — not far from age 40, in his very last moment as a professional ballplayer — it's really not hard at all to see where the nickname comes from. That childlike expression of pure awe-struck joy, right there? That's what spending more than twenty years playing a game for a living is supposed to look like.
Carter is immediately pulled for pinch runner Tim Laker (to what I assume was continued, thunderous applause). The 1-0 lead holds up, and Carter's final act as a professional baseball player is a heroic one. Can we all have just one moment like that?