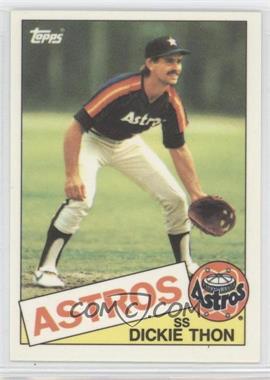 Dickie Thon!
I was all set to write about 1930s shortstop Billy Werber, who was born on this date in 1908, and that's a great idea except that it turns out I did just that, one year ago today. Thon and Werber have something in common, though: according to this excellent SABR bio by C. Paul Rogers III (which I don't think had been written yet a year ago today), toward the end of 1934, Werber's age 26 season, Werber apparently kicked an unexpectedly heavy bucket while throwing a tantrum and fractured his toe, an injury that would go on bugging him for the rest of his career.
And of course, it's a career-derailing injury — also during his age-26 season — that Dickie Thon is probably most famous for nowadays. There were a couple bad partial seasons at the beginning of his career that dragged his overall numbers down a bit, but in 1982 and '83 (his age 24 and 25 seasons), Thon hit .282/.335/.430 (119 OPS+), with 59 doubles, 19 triples and 71 steals in 95 tries (74.7%). He even suddenly showed power at 25, going from 3 homers in 1982 to 20 in '83. He graded out very well defensively (by Total Zone and FRAA) over those two seasons, and posted 13.1 rWAR, leading the National League with 7.2 rWAR in 1983 alone. Thon didn't dominate shortstops offensively in those two years — these two guys named Cal Ripken and Robin Yount over in the AL were pretty good — but he came in third or fourth among shortstops in all of baseball most offensive categories, came in just one run behind the great and mid-prime Ozzie Smith in Total Zone runs saved (and fifteen runs ahead of everybody else), and was second among all shortstops in WAR (4.3 behind Yount and 0.7 ahead of Ripken). And not that it was enough to matter, but through his first 18 plate appearances of 1984, Thon was hitting .353/.389/.471.
And then, on April 5, 1984, Thon was hit in the face by a Mike Torrez fastball that fractured his orbital bone and permanently damaged his vision. TCM wrote up the whole sad story over on Getting Blanked just a little over a month ago. It's a very good piece, and tells the whole story of that day and Thon's attempts to come back from it, and how this is why we shouldn't just shrug it off when a pitcher intentionally throws at a batter, the way Cole Hamels admitted he did. So rather than rehash that whole story, I'll just send you over there.
Suffice it to say that Thon missed out on all of what we might have expected to be his prime. He didn't play again in 1984, and while he played from day one on 1985, he needed regular rest and missed a big chunk of time in late May and early June, making it into only 84 games. He followed that up with 106 games in 1986, 34 in '87 and 95 in '88. Add it all up and from the date of the injury through 1988, aged 26 through 30, Thon played only 317 of a possible 805 games, and when he played, hit just .251/.326/.336 (89 OPS+) and totaled just 3.9 rWAR, a quarter or so of his 1982-'83 production. He seems to finally have pulled out of it in 1989, playing 136 games and hitting a solid .271/.321/.434 (116 OPS+), but he was 31, and while he went on to play 149 games in 1990 and 146 in '91, the bat quickly disappeared, and he was out of baseball after two more partial seasons, aged 35.
It's hard, harder than people would sometimes like to pretend, to play the what-if game with Thon. He and Alan Trammell were both 25 in 1983, and Trammell hadn't yet had any seasons nearly as good as Thon's '83, but had also been a regular since age 20 and had accumulated twice as many plate appearances, and 8 more total rWAR, by the end of that season than Thon had. There's not a lot of precedent for middle infielders who weren't regulars until age 24 becoming all-time greats; it's far easier to find players who were great at 24 and 25 and kind of fizzled out (without being beaned in the eye).
Still, Thon had just come off of two years in which he averaged 6.5 rWAR each, heading into a time in his career in which a player is generally supposed to be getting better. It seems very likely that that HBP did rob baseball of one of the most significant stars of the mid- to late-1980s (an era that could really have used a few more of those), and who knows? He could have kept getting better and become a lot more than that, and maybe he could've held off the aging process a bit longer.
Thon turns 54 today. His son, Dickie J. Thon (his dad is a W.), was drafted in the fifth round out of a Puerto Rico high school by the Blue Jays in 2010 and signed for a sizable bonus, but hit just .223/.369/.322 in rookie ball in 2011 (he just played in the Appalachian League's Bluefield Blue Jays' season opener last night, going 1-for-5 with a pair of strikeouts). I can't find any info on what Dickie the elder is doing with himself nowadays, other than traveling back and forth between Sugar Land, TX and Puerto Rico and trying to follow the Astros when he can.
Anyway, happy birthday, Dickie! Wish we didn't have to guess at what might've been.