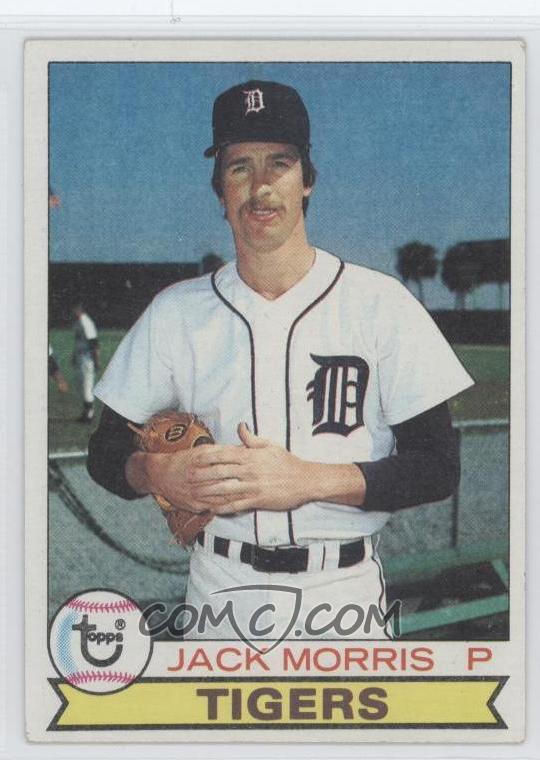 Jack Morris!
Okay, so I haven't done one of these birthday posts in at least two months, and I just happened to check today's birthdays, and Morris just happened to be one of them, and given the amount of crap he takes around here, I felt compelled. This will generally be a celebration of Morris' career, but I have to note this: Morris turns 57 today, and shares his birthday with Rick Reuschel (63), Rick Rhoden (59) and Watty Clark (would have turned 110 today), each excellent pitchers in their own right. By Baseball-Reference's WAR, Morris is a distant second among pitchers born on May 16 in years within two years on either side of the Korean War, coming in 25.3 WAR behind Reuschel. Just had to get that off my chest.
Morris grew up in St. Paul, Minnesota and attended Brigham Young University, though his numbers as a collegiate have apparently been lost to history (note: I didn't actually look that hard). But he was good enough that the Tigers took him with the second pick of the fifth round (the 98th pick overall) in the June 1976 draft. He shared the fifth round with Bruce Benedict, Mike Smithson, Ted Power, and no one else you've ever heard of, but the guy taken just two spots before him — with the final pick of the fourth round — was pretty good himself. Aside from Rickey, the draft was pretty weak; the one other real prize apart from Morris was also taken by the Tigers — Alan Trammell, in round 2 — and they also got Morris' 1984 rotation co-anchor, Dan Petry, in round 3. The Tigers also nabbed Ozzie Smith in round 7, which, if they'd signed him, would probably have made it a historically great draft for them.
Morris' minor league record was…undistinguished. Following the draft in 1976, he reported to AA Montgomery, where Morris threw 36 innings in twelve games (nine starts), walked one batter for each inning and struck out only half as many, giving up 31 runs (25 earned) in those 36 innings. They nonetheless advanced him to AAA Evansville for the 1977 season, and Morris was certainly better, but didn't look much like a future star: 20 starts, 135 innings, 3.60 ERA, 42 walks, 95 strikeouts. The Tigers relentlessly soldiered on, promoting him to MLB in late July. Morris made one big-league relief appearance followed by six starts, going 1-1 with a 3.74 ERA (115 ERA+) despits 23 walks against only 28 strikeouts in 45.2 innings.
After a 1978 season in which he spent the entire thing in the majors but was used only 28 times for a total of 106 innings, mostly as a spot starter and mop-up guy (can you imagine the fan reaction if a modern team did that to a 23 year old who had showed any promise at all?), Morris got five more starts at triple-A to start 1979 before coming up for good in May, making 27 appearances (all starts) in which he went 17-7 in 197.2 innings, putting up a 3.28 ERA, which came out to a 133 ERA+ that would end up being the best of his career.
You probably know most of the rest. After a step back across the board in 1980, Morris led the league in wins in the strike-shortened '81 (with 14), putting up a career-low 3.05 ERA and a 124 ERA+ despite just 97 strikeouts and a league-leading 78 walks (although 11 of them were intentional) in 198 innings, starting the All-Star Game for the first of three times and earning The Sporting News' Pitcher of the Year Award (but finishing third for the Cy Young, behind Rollie Fingers and Steve McCatty). Morris then kept being really-good-but-not-great through 1987. He threw a no-hitter in April 1984 and helped the Tigers to a World Championship in 1984 and a division title in '87. He won 20 games twice in that span, led the league in innings once, pitched in three more All-Star Games, and finished in the top 10 of the Cy Young race four more times. He also established himself as one of the wildest pitchers in the bigs, consistently finishing among the league leaders in total walks and leading the AL in wild pitches four times (out of six total for his career) in that seven-year span. His 24 wild pitches in 1987 gave him the fifth-highest total of the twentieth century.
It'd be understandable if you'd assumed Morris was more or less done after that; his ERA+ dropped from 126 in 1987 to 97, then to 79, then a slight uptick to 89; Morris lost more games than he won for the first time in his career as a real starting pitcher in 1989, going 6-14, then followed that with a 15-18 in 1990. He then finally left the Tigers and signed with the Twins, who were coming off 88 losses and a last-in-the-West finish, for what figured to be both his homecoming and farewell tour.
That's not how it worked, of course; Morris had one of his best years, the Twins won 95 games, and Jack did a thing or two in the World Series. He left after one year for Toronto (shocking the fanbase, who remembered him crying with joy upon "coming home" a year earlier) and enjoyed his third and final 20-win season (despite a 101 ERA+) and championship ring, before fading rather quickly with the Jays in '93 and Cleveland in '94.
Something you might not have known: after a year off, Morris attempted a comeback at age 41 with the Saints, the still-new and wildly popular independent league team in his hometown of St. Paul. He was joined on the same team by fellow former MLB stars Darryl Strawberry and Glenn Davis. Strawberry hit 18 homers in 29 games and was signed by the Yankees while his line through 138 PA was .435/.538/1.000; Davis' performance was much more pedestrian, and he was done at age 35. Morris' performance was more Strawberry than Davis, putting up a 2.61 ERA in ten starts with the Saints, but it was clear that no big-league teams were interested, and he hung it up for good after the season. It's out of print now, but if you can find it, Neal Karten's Slouching Toward Fargo is an excellent read, telling the story of two of those early Saints teams, including plenty of Morris' trademark surliness.
So: happy 57th, Jack Morris. It was a really good, really interesting career, and I hope that in our rush to point out (truthfully, mind you — entirely truthfully, and then some) that it was nowhere near a Hall of Fame career, and that he was nowhere near the greatest pitcher of the eighties, we can manage not to forget that.