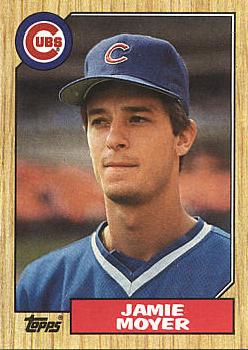 By Bill


As you may have heard, Jamie Moyer, who will turn fifty years old a few weeks after the upcoming season's World Series, finalized a minor-league contract with the Colorado Rockies last night. It seems like just about the worst possible place for Moyer to play, but hey, all he's got to do is make an appearance in the majors (far from a sure thing at this point) to be one of the stories of the year.
Inspired by Diane's great collection of Moyer facts (including the first one below) over at VORG, here's a quick chain of players who show up in the same box scores as one another:
You can keep going from there, of course, and it's just a couple more steps back to baseball's primordial ooze: Ruth almost certainly pitched to Bobby Wallace, who definitely shared the same field many times with Cap Anson, whose career predates the National League. But we don't have game logs for those, and I feel like four steps back to the game's greatest folktale is good enough. Ruth started in 1914, so that's four players linked together whose combined careers span very nearly an entire century.
As if you needed another reason to root for Moyer, imagine how cool it will be 20-25 years from now if, in 2012, Moyer got to pitch to Starlin Castro, Jason Heyward or Mike Stanton. Or if he squares off against Houston pitcher Jordan Lyles, born a month before Moyer's 28th birthday. It'd make my day, anyway.
[Morning-after edit: Moyer actually already has pitched to Heyward, but needs to face a few more youngsters to increase the odds of carrying it forward another 20 years or so.]
[Afternoon-after edit: Or, ideally, as Diane noted in her piece, Moyer could face the Nationals' Bryce Harper late this season. He'll be in his age-19 year, almost exactly 30 years younger than Moyer.]