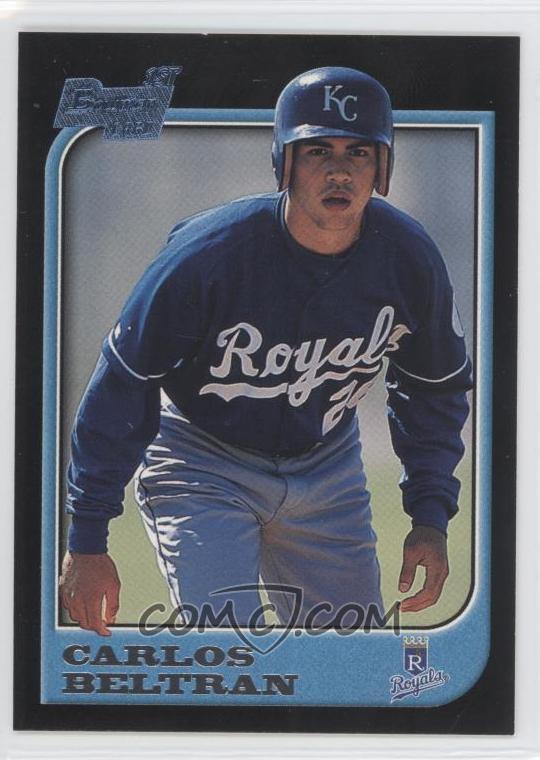 By Bill


So Carlos Beltran was in the news a bit yesterday (that is, at least, the drummed-up nothing that real-news-starved writers try to pass for news during this part of the year, when actual news doesn't happen), when he, technically, faced off against his longest-tenured former team for the first time since his trade from the Mets last July. Beltran had some light-hearted comments about former teammate Jon Niese's nose job and some classy, polite and low-key things to say about the Mets. (He was 1-for-4 with a run scored in the "game.")
I'm a bit surprised, but I haven't been able to find any Mets fans or media who have found a way to twist this into something negative about Beltran, yet. Maybe everything is forgotten once he's not on the team anymore? I don't want to try to judge the Mets fanbase as a whole, but the talk radio crowd and media were hugely critical of Beltran during the course of his contract with the team, painting him as lazy, selfish, all the usual stuff. The great Ted Berg has done a great job of counteracting all that.
But anyway, I didn't see any of that today in response to Beltran's comments. Though there was this, on Twitter, from the also-excellent Mark Healey:
Someone called me up last night and compared Roger Maris to Carlos Beltran. The difference? Maris ' 2 MVPs and WS rings #stlcards #mets
— Mark Healey (@MHealeyBaseball) March 13, 2012
I assume Mark's point was to explain the difference between how the two men were treated in New York, and not actually to compare them as players. Because the real difference is that Beltran has had just a much, much better career than Maris. And that tweet does get to exactly why people don't seem to get that; Beltran has had two years roughly as great as Maris' two MVP years (and a ton more good-to-very-good years), but just didn't happen to get the hardware. And he's done just as much to help his teams win as Maris did (considerably more, for most years of their respective careers), but hasn't had the team around and behind him to turn that into a championship.
You probably know that, and you probably don't need me to explain to you that Beltran was better than Maris, or that his peerless baserunning and brilliant defense (to go along with his excellent bat) are what have made him such a great, and underappreciated, player. That's, like, so 2009. Instead, here are some facts about Beltran that I hope make you think about him in a way you haven't, quite, before:

Beltran ranks as the sixth-greatest position player in Kansas City Royals history, with 24.6 rWAR. The five players ahead of him (George Brett, Amos Otis, Willie Wilson, Frank White and Hal McRae) all had at least twice as many games and plate appearances with the team than Beltran's 795 and 3512.
He's also the third-greatest position player in New York Mets history, with 31.7 rWAR, behind Darryl Strawberry and David Wright, and with fewer games and plate appearances with the team than anyone else in the top nine.
He's actually the 54th-greatest player in Houston Astros history, having put up 3.5 rWAR in his 90 games and 399 PA with the team in 2004 (that doesn't even count his historic postseason, which I'm guessing would bump him up the list quite a bit in most fans' eyes).
He doesn't have quite the same standing in Giants history, of course, but his 12 WAR batting runs in just 179 plate appearances was second on the 2011 team, behind Pablo Sandoval.
Among all players who have primarily been center fielders, Beltran's 60.8 rWAR ranks 11th all-time, surrounded by a bunch of other guys who probably don't impress much because they're also terribly underrated (Kenny Lofton, Jim Edmonds, etc.). The only thing really separating center from third base as the most underrated positions is that CF has that big clump of all-time greats (Mays, Mantle, Cobb, Speaker, DiMaggio, Griffey) — the great-but-not-that-great guys get just as raw a deal as the third basemen do.
If he can manage seven more stolen bases (not quite a given considering the rate he's established over the last two years), Beltran will become just the eighth player ever to amass both 300 homers and 300 steals. It's not a list that's dominated entirely by legends, but Beltran has a lot more of Andre Dawson and Bobby Bonds in him than he has Steve Finley and Reggie Sanders.
Much more than the raw number of steals, Beltran's success rate is ridiculous. He's been caught just 41 times, just over half as many as any other player on that 300/300 list (and only Alex Rodriguez has fewer than 100).
Since 1950 (the time from which I believe both leagues consistently tracked CS), in fact, no other player has stolen as many as 200 bases while being caught fifty or fewer times. Second to Beltran's 293-41 is Willy Taveras' 195-44. So Beltran's success at basestealing is essentially as though Taveras, a very good basestealer (if nothing else) in his own right, had one more year in which he stole 100 bases without being caught once.
Beltran's stolen-base success rate of 87.725% actually towers over all players with a minimum of 200 career attempts (list here), three full percentage points over the great Tim Raines (in many fewer attempts, of course).
So you could say Beltran is the greatest percentage base stealer of all time, and he's also averaged a homer about every 25 plate appearances, and won three Gold Gloves while likely deserving several more. Other than hitting for average and, I guess, pitching, Beltran has done it all. I'm not going to argue that he belongs in the Hall of Fame (I suspect I'll probably be in favor with one or two more good seasons), but he's just a great, great player. He hasn't won any MVPs (though he justifiably could have done in 2003 and 2006), and he hasn't won any World Series (though he almost single-handedly got a team very close in 2004). All he's done has been great, in virtually all aspects of the game, for the majority of the last fourteen seasons.
And he's been hurt a bit too, of course. But you knew that, and he's this great anyway!