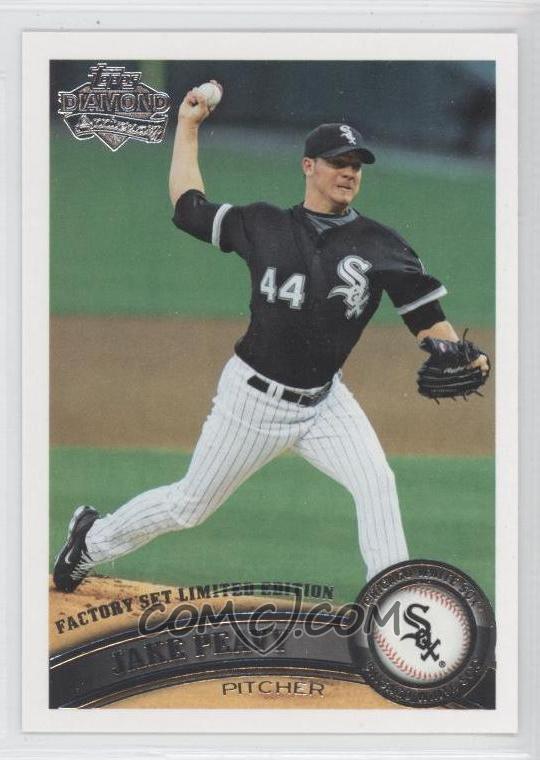 DID YOU KNOW? While the world has obsessed over Matt Kemp's awesomeness and Albert Pujols' terribleness and Jamie Moyer's oldness and Bryce Harper's youngness, professional baseball has also been played by at least like fifty other people! It's a thing I'd forgotten for a while, what with those things, and the unmitigated disaster that has been the Twins' season, and real-life stuff. So last night, I spent a little time poking around Baseball-Reference and Baseball Prospectus, and I learned a number of things I didn't know that, as far as I can tell, nobody outside of these players' teams' own markets is talking about. Here are six of them:
1. I'd say Jake Peavy is back, except he's probably never been this good.
The top three MLB leaders in rWAR, through yesterday are all pitchers: Jered Weaver (who, perhaps, shouldn't count because he's gotten to make three of his seven starts against the Twins) at 2.3, Stephen Strasburg at 2.4, and Peavy at 2.5. It's not quite as overwhelming by WARP or fWAR, but Peavy's second among pitchers in both. He's put up a 1.99 ERA through 45.1 innings in his first six starts, he's done it largely against good offenses, and he's more or less earned it, with a 2.22 FIP.
Peavy was a very good pitcher at his peak, back in the middle of the last decade, but probably wasn't quite as good as the crazily forgiving Pecto Park made him look. He led the league in ERA twice, but never in Adjusted ERA+, and he won the Cy Young Award in 2007, but finished just fifth among pitchers in rWAR. He's never been nearly as effective over a full season as he has been through these first six starts — that 2.22 FIP would be his career lowest by more than half a run.
The way in which he's doing it is a bit odd. Peavy's strikeouts are down by almost two per nine (to a still-very-good 7.74) compared to his peak, even though his pitch selection and velocity has stayed about the same, and strikeouts league-wide have consistently gone up since then. He's made up for it by more than halving his walk rate from that period, to a 1.19 rate that's currently third in the AL, and his 6.5 K/BB rate is best in the AL. The one warning sign is that another big part of how he's doing it is by permitting just 2 home runs to date, despite having the highest fly ball percentage in baseball to date (min. 30 IP). He plays his home games in an especially homer-friendly park, so if that continues, you have to expect a lot more balls to leave the yard. But for now, he's clearly healthy, and he's been outstanding.
2. By at least one measure, the NL MVP so far is not Matt Kemp.
Kemp leads the world in WARP (2.7 to Derek Jeter's 1.8) and fWAR (2.7 to Austin Jackson's 2.0), but Baseball-Reference's Total Zone sees Kemp as the third-worst player at his position in the league, at -6 runs (Yoenis Cespedes gets -10, Angel Pagan -8), and that drags him down to just 1.7 rWAR, behind Strasburg and three other pitchers — who, as I've discussed, oughtn't to be MVPs — and your NL MVP of at least this moment by at least that one measure, Michael Bourn.
Bourn's batting average and OBP are both more than 70 points below Kemp's, and his SLG is less than half of Kemp's, but he's hitting a still-excellent .333/.404/.405 (125 OPS+), and in the most plate appearances of anyone in the league, which has value. He leads the league in hits and is in the top ten in walks (!), runs scored and steals. More impressively, though, he leads all players by Baseball-Reference's measure of defensive value, with 8 runs saved over an average CF. That's not necessarily a fluke, either; he gets just 0.8 so far by BPro's FRAA, but 4.6 by UZR, and he's received generally high marks in each of those stats throughout his career, justifiably winning Gold Gloves in 2009 and 2010.
I suspect Total Zone's reading on Kemp is mostly a fluke, and it would be crazy to vote anyone but Kemp as the first-20%-or-so-of-the-season NL MVP. I just wanted to point out that Bourn has been really, really good. (He's also 10th in the NL in WARP and 2nd in fWAR.) Heyward, Freeman and Chipper are going to get the headlines — and deserve a lot of them — but Bourn has probably been the best overall player on the 18-12 Braves.
3. Jose Bautista has been almost as bad as Albert Pujols.
Coming off that second consecutive great year that convinced everybody he really was suddenly a superstar and that that huge contract extension he signed before last year was a great idea, Jose Bautista can hardly have been any worse through his first 29 games of 2012. He's still showing a lot more power than he ever did before 2010, with 5 homers…but that's only a 26-homer pace, and he's doing nothing else except walk, coming into Tuesday night at .183/.313/.356. That's a bit less awful in OBP and SLG than Pujols' line, but the metrics are uniformly agreed that Albert has been better in the field. They get identical -0.2 marks in rWAR, though Bautista is a bit "ahead" by the other two measures.
Bautista's only 10 months younger than Pujols, and while Pujols caught fire in the second half of 2011, Bautista did not, hitting just .257 with 12 homers in the second half after .334 and 31 in the first. And of course Albert has the much, much fuller track record. A lot of it might be bad luck (Bautista's got a crazy-low .171 BABIP, after a .309 in 2011 and with a career .272), but who can say? He's clearly not hitting the ball as hard or as far when he gets it in the air, at any rate. If we're worried that Albert might be starting to slip (and I think we'd be justified in doing so), it seems to me we should be that much more concerned about Bautista.
4. Adam Dunn is back, and might strike out a billion times.
It's a bit surprising that I haven't heard anyone mention Dunn, who, after a slow start in which he looked like he might just be the guy he was in 2011 for good, has hit .269/.419/.687 in his last 20 games and now sits at .236/.364/.557 for the year. He has 9 home runs (second in the AL, on pace for roughly 46) and sits in the AL's top ten in walks and RBI. The rates don't look as great as Dunn's heyday, but that's on the general decline in scoring; Dunn's current 149 OPS+ would be the highest of his career.
But. He's also got 45 strikeouts, ten more than anyone else in the Majors. If you project that out to my own full-season standard of 660 PA, that's 230 Ks, which would beat Mark Reynolds' three-year-old record by seven. Dunn has always been a strikeout artist himself, of course, but that pace is 31 ahead of his own career high of 199. Dunn's strikeout rate of 35.7% in 2011 (when he didn't get enough PA to rack up nearly so many total Ks) was the highest of his career by 5%, and his rate so far in 2012 is just a tick behind that, at 34.9%. It will be interesting to see if he's able to keep up anything like his current level of success while striking out that often.
5. Travis Hafner is back too, mostly.
Speaking of big left-handed guys who shouldn't own a baseball glove…David Ortiz is getting all the attention as the slugger everyone thought was done — and deservedly so, he's hitting .380/.443/.685 and pretty much single-handedly carrying the Sox's offense — but the reports of Pronk's death, too, have been greatly exaggerated. Hafner doesn't have the power he used to; he hasn't slugged .500 since leading the league in that category at .659 in 2006, and he's at just .465 in 2012. But he's getting on base at a .400 clip, and has a 141 OPS+. That despite a ludicrously low .269 BABIP (vs. .317 career). He's played 25 of Cleveland's 28 games, and even hit his first triple since 2007 the other day. Cleveland is currently (well, before yesterday's games) 17-11 and out in front of the rest of the Central by three games, and if Hafner stays healthy and Shin-Soo Choo eventually comes around, it seems to me that they've got a much better chance than most would assume of staying there.
6. Zack Greinke has been really unlucky, or something, for a long time now.
Since his Cy Young Award season of 2009, Greinke's FIP was 0.86 runs lower than his ERA in 2010 (3.31 – 4.17), then 0.88 lower in 2011 (2.95 – 3.83). So far this year, his ERA is 4.11, his FIP 2.23. Now, the whole Brewers team has done a pretty poor job of turning batted balls into outs so far in 2012, with a 4.92 ERA against a 3.69 FIP, but Greinke's disparity has been even bigger than that.
I'm typically really slow to credit things like that to anything other than bad luck or bad defense. And for his career, Greinke hasn't taken any kind of a hit pitching from the stretch: batters hit .263/.307/.419 off him with the bases empty, .257/.314/.396 with men on. So I still think it's probably just luck, but it'll be hard to keep believing that if the trend continues for a third full season in a row. Greinke has maintained the best-in-the-world stuff that led him to that historically good season in 2009, but the results in terms of runs allowed just haven't been there since. It'll be interesting to see if he can pull out of that trend over the rest of this season.