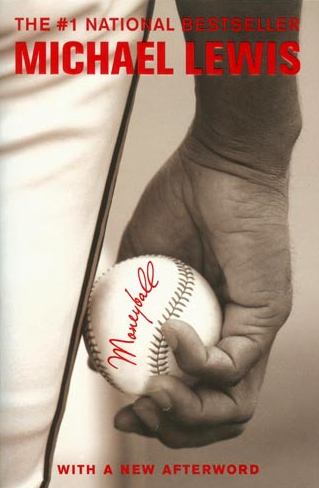 Jon Paul Morosi is one of the intellectually bankrupt mainstream writers working today. He's exceptional at building straw men arguments against those who supposedly think that RBI aren't meaningful (of course they're important, they just aren't a function of a player's quality), overly glib, and infuriating in his smugness.
His latest piece, in which he lauds the Blue Jays for their "anti-Moneyball" approach, not only fails to understand the key concepts of Michael Lewis' seminal piece (almost 10 years after the book came out), but completely whiffs when describing the amateur draft, which formed one of the most memorable sections of the work:
The Oakland A's had seven of the first 39 picks in the 2002 amateur draft; the cache of extra selections resulted from the departures of free agents the franchise could not afford. The strategy the A's used to select the seven players — out with the scouts, in with the stats — was immortalized in Michael Lewis' bestselling book and the motion picture starring Brad Pitt.

The revolutionary draft occurred 10 years ago this month.

History has judged it a failure.
Pardon The Common man, but that's complete bullshit. Morosi believes the fact that the players the A's have drafted have only accounted for one All Star appearance is an indictment of their process in 2002, and that the Jays' decision to carry more scouts than any other team in the game is some kind of response to that (ten years later). Now, one could (correctly) argue that, by increasing the number of scouts (who work fairly cheaply) to get a deeper and broader knowledge of amateur talent and get a leg up on other teams, the Blue Jays are exploiting weaknesses in the system, which was of course what Moneyball was all about.
But Morosi doesn't get that. He also doesn't understand that the A's ended up with one of the most successful drafts in the league that year:
| | | | |
| --- | --- | --- | --- |
| Team | Draft WAR | Best acquired | Pick |
| Giants | 38.8 | Matt Cain | 1.25 |
| Dodgers | 36.8 | Russell Martin | 17.19 |
| Tigers | 35.2 | Curtis Granderson | 3.8 |
| Reds | 30.0 | Joey Votto | 2.3 |
| Athletics | 28.9 | Nick Swisher | 1.16 |
| Braves | 26.5 | Brian McCann | 2.23 |
| Twins | 25.8 | Denard Span | 1.20 |
| Marlins | 25.6 | Josh Johnson | 4.11 |
| Royals | 25.5 | Zack Greinke | 1.6 |
| Phillies | 24.2 | Cole Hamels | 1.17 |
As you can see, the A's had the 5th best draft in the game by this metric. Now, that's not a definitive ranking for the overall draft. After all, the A's had more picks than other clubs did, after losing Jason Isringhausen, Jason Giambi, and Johnny Damon to free agency. But they hit on a lot of them. Nick Swisher and Joe Blanton became quality Major Leaguers, while Jared Burton, Mark Teahan and John Baker are all banging around as role players). In fact, if you take out Swisher and Blanton, the A's still had a better draft than nine other clubs.
And it certainly matters how you define "success" or "failure" in a draft. As you look at the results of each team's draft, it's clear that all it takes to make a team's draft successful is a single big hit. Like how the Reds hit with Joey Votto or the Phillies with Cole Hamels. In fact, the players listed in the above table represent 76.9% of the total WAR acquired by these franchises in the draft. And the A's had, not just one but two solid hits.
Finally, it's not fair to judge a draft simply by the players chosen, but by what's done with the players. The A's used Mark Teahen, for example, as part of a package to acquire Octavio Dotel in 2004. After three good years with Nick Swisher, the A's sent him to the White Sox for Gio Gonzalez and Ryan Sweeney. Blanton was dealt to the Phillies for Josh Outman. Then Gonzalez, Sweeney, and Outman were all dealt, and led to the A's acquiring Seth Smith (.260/.378/.448, 129 OPS+), Josh Reddick (.266/.344/.522, 136 OPS+), Tommy Milone (8-5, 3.83), Derek Norris, and the numbers 36 (Brad Peacock) and 57 (A.J. Cole) prospects in Major League Baseball according to Baseball America, ensuring that the A's will benefit from the 2002 draft for the next several years to come.
So no. No matter how you look at it, the 2002 draft was not a failure. No matter how you try and spin it, the A's came out of 2002 with a strong foundation through their draft, which they've leveraged well even as the rest of the club has struggled. And any success the Blue Jays have with their own methods today (we haven't even seen the results on a Major League field yet) is not a rejection of the principles laid out by Lewis, but a celebration and adaptation of them. To suggest otherwise is either grossly ignorant or intellectually dishonest. Which would you rather be, Jon?
Pitcher of the Night: Mat Latos, 9 IP, 4 H, 2 BB, 13 K, 1 R
Figures, the day after The Common Man takes him out of his fantasy team lineup. But can you blame TCM? After this, Latos still has a 4.77 ERA on the year, and is on pace to give up 38 homers or so.
Hitter of the Night: David Ortiz, 2-3, 2 HR, BB, 3 R, 3 RBI
David Ortiz has one job to do, and while the rest of the Red Sox were dinking around, he was at his post. Good man, Papi.
Defensive Play of the Night: Alex Rios
Sure, the run scored on this sac fly, and the Sox ended up losing anyway. But this is just nifty.
Trade Bait of the Night: Rafael Betancourt, 1 IP, 2 H, 1 K, Sv
Ladies and gentlemen, we present to you, pretty much the only Rockie worth trading.
Injuries of Note:
Henderson Alvarez, elbow soreness
Somebody wrap Ricky Romero in bubblewrap, call Dave Steib and Jimmy Key, and put Pat Hentgen on standby
Alex Avila, knee soreness
There's renewed worry about Avila, who has hit just .234/.324/.396 this year, and had been 1-for-14 since coming off the DL a few days ago, and now may be heading for knee surgery. Keep in mind that Gerald Laird is also nursing a sore hamstring, so maybe Bryan Holaday should hop on a plane, like, immediately.
Xavier Nady, being Xavier Nady
No, he's actually hurt or something. Which is not anything new and/or different. It's more like a state of being for Xavier Nady.
Ephemera:
Yankees: DeWayne Wise, 2-3, HR, 3B, 3 RBI
We don't have a lot of rules around here. But one of them is any time DeWayne Wise, owner of a career .218/.254/.372 line, gets a homer and a triple in the same game, he gets mentioned.
Phillies: Jimmy Rollins, 2-5, HR, 2B, 2 R, 2 RBI
After struggling to start the season, Jimmy Rollins is hitting .345/.379/.664 in his last 25 games. Despite his performance and tonight's win, Phillies fans will turn on him in 3…2…1…
Royals: Luke Hochevar, 9 IP, 7 h, 1 BB, 8 K, 0 R
Luke Hochevar drops his career ERA from 5.33 to 5.25 with his second career shutout. And now he gets another 10 starts to prove all over again he's no good before he has another brilliant performance and the cycle starts anew. It's the ciiiircle of liiiiiiife, it's the wheel of fortuuuune…
Rays: Alex Cobb, 8 IP, 13 H, 0 BB, 1 K, 8 R
Cobb allows the most runs in a complete game since 1998, when Randy Johnson allowed 8 against the Rangers while striking out 12 and throwing 141 pitches. As Jordan Smed pointed out, this was part of a ridiculous run for Johnson, in which he averaged 130 pitches per start over his last 13 turns. Then he went to Houston and won 10 of his last 11 starts with a 1.28 ERA.
White Sox: Adam Dunn, 0-4, 4 K
Adam Dunn has his 3rd Golden Sombrero of the season as the Sox fall to the Twins, according to Pioneer Press reporter Ben Goessling. That leaves him tied with 75 other guys (and himself) for 21st all time. He has some work to do though if he's going to match Dick Allen's 7 Golden Sombreros in 1968.
Marlins: Heath Bell, 1 IP, 3 H, 1 BB, 1 HR, 1 K, 4 R
What a meltdown in Miami as the Cardinals score one each in the 7th and 8th, and four in the 9th off of Bell to tie the game and send it to extras, where they won it. The best part about the Bell breakdown is that he doesn't even get charged with a blown save, since it wasn't a save situation when he entered. Have we mentioned how stupid the save and blown save stats are yet? Bell now has a 6.59 ERA his season.
Rangers and Tigers: Adrian Beltre and Miguel Cabrera each have three hits
The #1 and #2 players in the All Star balloting face off. And as little as The Common Man likes all the ballot box stuffing going on around the league, at least Beltre deserves the win in the vote, even as his team gets whumped.
Mets: Jon Rauch, 0.1 IP, 0 H, 1 BB, 1 K, 4 R, 0 ER
Holy crap, the Mets make three errors in four plays, then Rauch is lifted after walking Alfonso Soriano. Let's see how Mets "fans" react to Rauch tonight then. Can you imagine being in the locker room with this guy after this game? Keep your distance, David Wright, Lucas Duda, and Ronny Cedeno. Keep your distance.
Padres: Cameron Maybin, 0-4, BB, R
Man, Maybin was supposed to have finally come around after a huge 2011. Now he's hitting .204. This is literally the only thing The Common Man could think to say about what looks like an awful game.
Blue Jays: Colby Rasmus, 3-5, HR, 2 R, 3 RBI
Rasmus is a hot knife through butter right now, and wasn't even slowed down by the lefty Doubront. He's hitting .330/.376/.638 in June.
A's: Ryan Cook, 1 IP, 1 BB, 2 K, Sv
Look who has a closer mentality! If Cook keeps this up, Billy Beane will be able to get another package of prospects out of the Red Sox next year too!
Giants: Barry Zito, 7 IP, 3 H, 3 BB, 4 K
Shut the front door. No he didn't. Oh, it was against the Dodgers? Then he probably did.