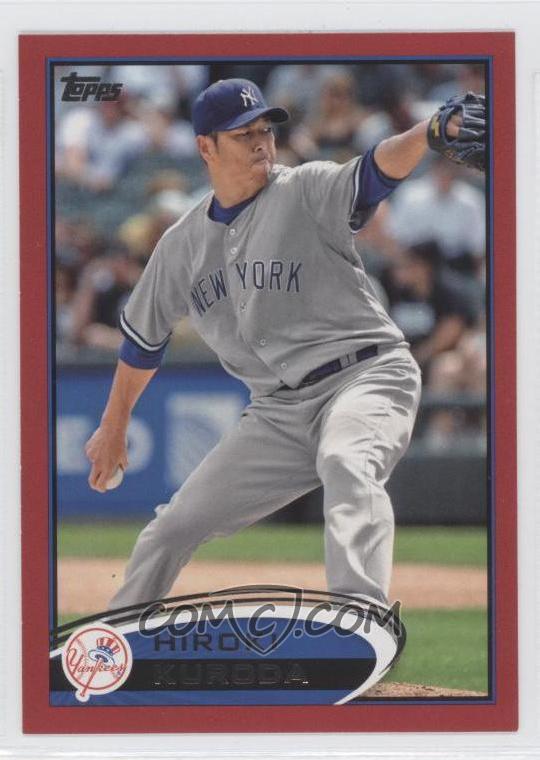 Apologies for a particularly brief Cram Session this morning. To make it up to you, I won't bore you with my excuses. We're hitting only the highest points with this one.
Pitcher of the Night: Hiroki Kuroda, 9 IP, 5 H, 2 BB, 5 K, 0 R
There were a ton of very strong pitching performances last night — I count at least eight starters who went 6.1 or more innings and permitted one earned run or none. HIROK takes it, though, with his fourth career complete-game shutout (second of the year, his only two since 2008), considering it came against a strong (if struggling) Rangers offense and was the only actual shutout of the bunch.
As our friend Matthew Leach writes in more detail today, Kuroda has been all the Yankees could reasonably have expected, and a lot more besides. After putting up a career 3.45 ERA in four seasons in Dodger Stadium and the NL West, Kuroda's 3.06 2012 ERA exactly matches his 2011 career best…but is much, much better when placed in league/park context. Baseball-Reference hasn't updated yet as I write this, but he's likely at or over 4.5 WAR by their measure, easily a career high and even more easily the best among Yankee pitchers (Sabathia's the next-best starter, at 2.1). Kuroda is 37, and likely to fade at some point soon…but the Yanks have him on a one-year deal, so as with Bartolo Colon last year, it's pretty unlikely that that inevitable descent will begin on their watch.
Hitter of the Night: Mark Reynolds, 2-4, 2 HR, 2 R, 4 RBI, K
Reynolds teed off on Josh Beckett and Mark Melancon in the Orioles' 7-1 win over the Sox. The second homer was just Reynolds' 11th of the year, and this game brought his line "up" to .215/.331/.399, from a guy who averaged nearly 35 homers over the preceding two seasons and hit 44 the year before that. I've been saying for quite some time that Reynolds' all-or-nothing style, given that he's not quite the prodigious walk-drawer or hulking monster that Adam Dunn is, means that he was succeeding by skirting a razor-thin line, and over the past three seasons, and especially in this one, he seems to have crossed that line from useful to unuseable (to say nothing of his increasingly disastrous defense at either corner). Reynolds is a fellow UVA grad, so I really hate to have been right in this instance (especially when it so rarely happens to begin with), and it's great to see him put together a game like this one.
Defensive Play of the Night (for reals): Jack Hannahan
Speaking of players toward whom I have a bias; not only is Hannahan a fellow St. Paul native (one I could have played against in high school, theoretically, if I'd played for a school that would have been capable of bringing a game against Cretin-Derham Hall to a conclusion in less than a week without a mercy rule), but I have a thing for specialists. Hannahan has not only crafted a lengthy big-league career for himself based on his specialty, but he's often actually been a pretty damn useful player. That specialty is on full display here, as Hannahan makes an almost implausibly quick and far-reaching dive to grab an absolutely demolished liner off the bat of Albert Pujols.
Defensive Play of the Night (for giggles): Prince Fielder
There should be more widespread appreciation for that rarest of birds: the one-man, two-error* play. This one is extra special because it's not even a ball that Prince has to field in the first instance — he makes one error by stepping off of the base before catching the throw from short, which is a failure in basically the easiest task a baseball player can perform, and then makes a second by uncorking a hilarious throw back toward second base. I feel like those couple seconds say a lot about the 2012 Tigers, in re. why they're not ten games ahead of the Central right now.
* Fielder was actually charged with only one error, on the throw, which to me is patently ridiculous — if stepping off of the base on a good throw and a force play isn't an error, we shouldn't have errors at all (which we probably shouldn't, but that's a discussion for another day). I choose not to recognize that ruling.
That's all the cramming you get today, but I'm sure we'll be back with your usual fare tomorrow.